Will Natural Gas Producers Take Hit From Milder Weather?
The U.S. Energy Information Administration — or the EIA — reported Thursday that natural gas in underground storage declined by 94 billion cubic feet in the week ended March 29 to a level of 1,687 billion cubic feet. Stocks were 779 billion cubic feet less than the reserves reported at this time last year and 37 billion cubic feet below the five-year average of 1,724 billion cubic feet, suggesting to experts that natural gas production may take a hit as milder weather is expect to blunt demand in upcoming weeks.
On Wednesday, natural gas futures in New York fell by a greater percentage than they have in the previous six weeks due to forecasts for more moderate weather, which will likely reduce consumer demand for the fuel. However, ahead of Thursday's EIA status report, futures edged higher for the first time in five trading sessions as analysts expected a large weekly drawdown from inventories, a prediction that added support for futures despite the forecasts for milder weather. A lower inventory typically bodes well for natural gas prices based on simple supply and demand economics.
Lowered natural gas stockpiles are beginning to be somewhat of a trend. Last week's EIA report showed that "the year-on-year storage deficit was the widest in records going back to 2005," according to Bloomberg, and that "the surplus to the five-year average was the smallest since October 2011." However, the lowered supply is not a guarantee for high prices over the long term. In a previous report, dated March 12, the EIA decreased its outlook for prices this year as consumption is expected to fall to 70.02 billion cubic feet per day from 70.31 billion…
Gas output rose to a record high of 28.5 trillion cubic feet in 2011, pushed upward by high output from shale deposits, said the EIA in a report from early January, and the boom in oil and natural gas production has helped the United States reduce its dependence on imported fuel. In 2012, the U.S. produced 84 percent of its own energy, the most since 1991. As a result, the measure of self-sufficiency rose to 88 percent last December, the highest since February 1987.
Immediately following the EIA's status report — which was released at 10:30 a.m. Easter Time, natural gas futures fell to approximately $3.88 per million BTUs from $3.90.
In response to the report, shares of many of U.S. natural gas producers took a downturn as well. Exxon Mobil (NYSE:XOM), the country's largest producer, dropped down about 0.1 percent to $89.80 in a 52-week range of $77.13 to $93.67, and EOG Resources (NYSE:EOG) fell 1.5 percent to $124.24 in a 52-week range of $82.48 to $138.20. However, Chesapeake Energy (NYSE:CHK) bucked the trend, trading slightly in the black.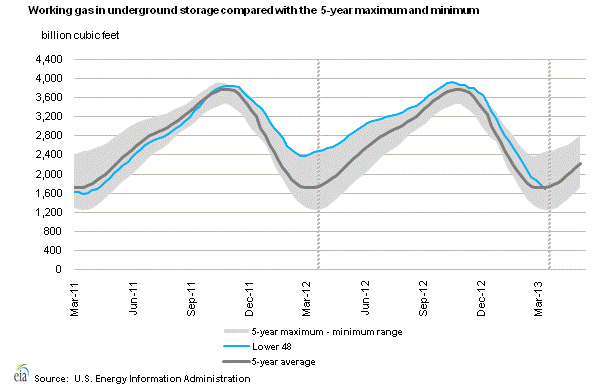 Don't Miss: Does This EIA Report Hold Bad News For Oil Prices?