Will Navistar Corporation's Stock Continue to Motor Higher?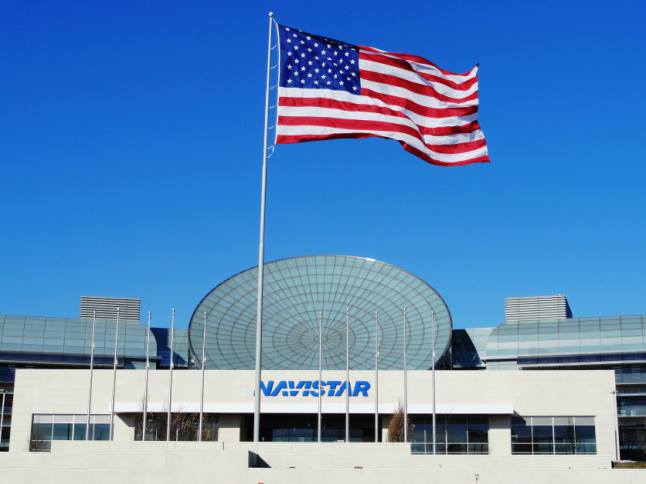 Navistar International Corporation (NYSE:NAVI) just saw a wider than expected loss for its past quarter. But the stock is near fifty-two-week highs. Is it worth the headache to own a stock that is moving up when the underlying company keeps losing money?
First we have to understand what the company does. It manufactures and sells commercial and military trucks, diesel engines, and school and commercial buses. The company also provides service parts for trucks and diesel engines worldwide. It operates through four segments: North America Truck, North America Parts, Global Operations, and Financial Services. The company manufactures and distributes Class 4 through 8 trucks and buses in the common carrier, private carrier, government, leasing, construction, energy/petroleum, military vehicle, and student and commercial transportation markets. It also designs, engineers, and produces sheet metal components, including truck cabs. In addition, the company designs and manufactures diesel engines across the 50 through 550 horsepower range under the MaxxForce and MWM brand names, produces mid-range diesel engines primarily under contract manufacturing arrangements for sale to original equipment manufacturers in South America, and manufactures diesel engines for the pickup truck, van, and sport-utility vehicle markets. Further, it provides retail, wholesale, and lease financing of its trucks and parts, as well as financing for wholesale accounts and retail accounts receivable.
In terms of performance, the company saw a second quarter 2014 net loss of $297 million, or $3.65 per diluted share, compared to a second quarter 2013 net loss of $374 million, or $4.65 per diluted share. So the losses are narrowing, in part on higher revenues. Revenues in the quarter were $2.7 billion, up from $2.5 billion in the second quarter of 2013. Second quarter 2014 results saw unadjusted earnings were a loss of $119 million.Adjusted earnings were $82 million, which exceeded the company's second quarter guidance of between $25 million to $75 million, excluding pre-existing warranty and one-time items. Navistar finished the second quarter 2014 with $1.06 billion in manufacturing cash, cash equivalents and marketable securities, in line with its cash guidance range of $1.0 billion to $1.1 billion.
While the company is losing money, some highlights include sequential and year-over-year improvements both in orders and retail market share for medium and heavy duty trucks. The company's medium-duty retail market share was 26.4 percent for the quarter, up from 17.3 percent in the first quarter of 2014 and 25.8 percent in the second quarter of 2013. Navistar reduced its year-over-year structural costs in the quarter by an additional $92 million, including $75 million in savings from selling, general, and administrative expense and $17 million in reduced engineering costs. Last month, the company initiated additional restructuring activities in North America, which will be completed by the end of this fiscal year and are expected to generate $40 million in savings annually starting in 2015.
Earlier in the quarter, Navistar announced its plans to consolidate mid-range engine manufacturing by idling its Huntsville, Ala. mid-range engine plant and moving production to Melrose Park, Ill. Those plans remain on track and once completed later this summer, are expected to reduce Navistar's operating costs by more than $22 million annually. Navistar's warranty spend improved in the second quarter, down $23 million or 13 percent year-over-year.
Troy A. Clarke, Navistar president and chief executive officer, stated, "We continue to make progress with our 'Drive to Deliver' and we have seen a number of encouraging signs this quarter, including improvements in our market share and strong order backlog, positive trends in our warranty expense and spend, and higher than expected structural cost reductions.This is the third consecutive quarter where we've met or exceeded our EBITDA guidance and we have now met or exceeded our cash guidance for seven straight quarters. We still have much work to do in our core North America operations as well as in Brazil, where we are taking actions to lower our breakeven point to offset the ongoing economic challenges in that country. Overall, we feel good about our steady gains and positive momentum. We saw our market share bounce back strongly in the second quarter and we look to build on this in the second half of our fiscal year. We also expect our financial performance will continue to build quarter-over-quarter, with third quarter results better than second quarter, and our fourth quarter performance better than the third quarter. We are progressing and building momentum."
Although the company is losing money it is on the right path. It is cutting expenses and has raised cash, and revenues are improving. Looking ahead the company raised Class 8 truck sales industry to 225,000-235,000 in North America. It also increased FY2014 structural cost savings goal to $250 million, versus its previous goal of $175 million. The company projects third quarter unadjusted earnings between $75 million and $125 million, excluding pre-existing warranty and one-time items and projects between $950 million and $1.05 billion in manufacturing cash, cash equivalents and marketable securities at the end of the third quarter. Given these expectations, I think the stock can be held onto with confidence. I would hesitate however buying the company until it strings together a few more improving quarters.
Disclosure: Christopher F. Davis holds no position in Navistar and has no plans to initiate a position in the next 72 hours. He has a hold rating on the stock and a $38 price target.
More From Wall St. Cheat Sheet: