Will New Support Levels in Gold and Silver Hold?
The markets were once again at the mercy of Ben Bernanke. On Thursday, the Fed Chairman spoke to the Senate.  The topic was the same, but the message appeared to be different. Bernanke changed his tone from the prior day and said the central bank " is not perpared at this point to take further action."  After those words trickled down to the markets, the Dow (NYSE:DIA), S&P 500 (NYSE:SPY), and commodities (NYSE:RJI) received a pullback. Precious metals (NYSE:DBP) gold (NYSE:GLD) and silver (NYSE:SLV) seemed to stall, and even oil (NYSE:USO) closed lower.  Although gold and silver received a pause from their recent rallies on Thursday, both metals have broken through resistance levels.
Gold has looked very strong this week, and broke to new all-time highs in the Dollar (NYSE:UUP), Euro (NYSE:VGK), and British Pound (NYSE:FXB).  The chart below shows the complete breakthrough of gold's past all-time high of $1578. We expect the previous resistance of $1550-$1560 to provide short-term support for gold.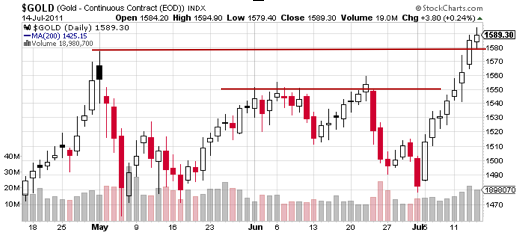 Silver is a slightly different story because of its almost parabolic-like action seen in April.  The chart below shows the highly traded iShares Silver Trust (NYSE:SLV).  Although silver has broken out of its recent summer range, spot silver was unable to hold above $39 on Thursday. Silver bulls will need to watch the $39 area closely. If silver fails to breakthrough $39, silver is at risk of falling back into its summer range, until at least QE 3 becomes official.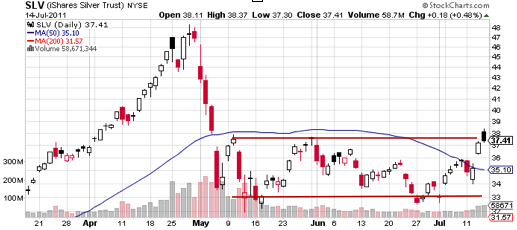 Investors seeking protection from QE programs, debt ceiling debacles, or any other fiat currency shortfalls, should consider physical percious metals, as well as miners such as Market Vector Jr Gold Miners ETF (NYSE:GDXJ), Barrick Gold (NYSE:ABX), Yamana Gold (NYSE:AUY), and First Majestic Silver (NYSE:AG).
For more analysis on our support levels and ranges for gold and silver, consider a free 14-day trial to our acclaimed Gold & Silver Investment Newsletter.
Disclosure: Long AGQ.