Will Obamacare Actually Make Workers Cheaper to Insure?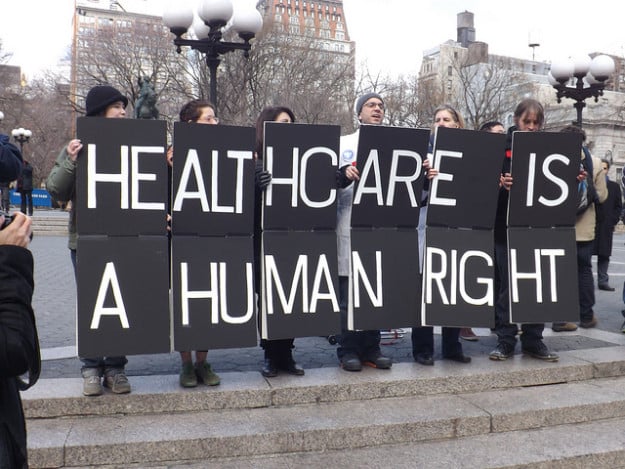 Before the Patient Protection and Affordable Care Act was enacted into law, approximately 150 million Americans received health insurance through their jobs. Beginning next year, all business with 50 or more employees will pay a penalty for not offering coverage to its workers, and those not covered through their jobs will be required to purchase insurance as well.
Since the healthcare reform championed by President Barack Obama was passed just over three years ago, policymakers, politicians, and industry leaders have searched for insights into how the Affordable Care Act would affect businesses and workers. Because Massachusetts enacted a law in 2006 that provides healthcare coverage to over 98 percent of its residents, and that eventually served as a model for the architect of Obamacare, the state's healthcare reform can be used to assess the impact of the Affordable Care Act.
PricewaterhouseCoopers, an accounting firm that analyzed the healthcare reform in Massachusetts, found that employer-sponsored insurance rose in the years after the legislation was passed, even as coverage continued to decline nationally. The reform required businesses with 11 or more employees to make a "fair and reasonable" contribution towards insurance coverage, and individuals must carry insurance or pay a penalty if not covered by their employers. The state offered a 15 percent rebate to help businesses that adopt wellness programs.
Obamacare mirrors these provisions; businesses with 50 or more employees will pay a penalty for not offering coverage, individuals must carry insurance or pay a penalty, and the government will offer tax credits between 35 percent to 50 percent of the cost of coverage for small employers with no more than 25 employees.
The math provided by PricewaterhouseCoopers showed what the employer-sponsored insurance will mean for employers and for employees once Obamacare is implemented. As the firm explained, compensating workers will enable businesses to save money when they provide a combination of salary and health insurance because of the federal tax exclusions. For example, if a company provides coverage to a worker earning $52,000 per year in 2014, it will save $2,550.87 because of tax deductions from the insurance. When workers obtain health insurance through their employer, their take-home pay is higher. A family with a combined income of $92,000 in 2014 that has employer-sponsored coverage earns $3,097.50 more in pay by taking advantage of the federal tax exclusion for the insurance.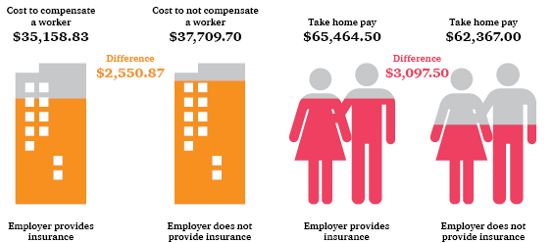 You can follow Meghan on Twitter (@MFoley_WSCS) for the latest industry news.
Don't Miss: How Will Marijuana Impact Colorado's Pocketbook?