Will Pepsi Spin Off Its Food and Snack Division?
S&P 500 (NYSE:SPY) component PepsiCo Inc. (NYSE:PEP) reported its results for the third quarter this morning. PepsiCo is a global company that manufactures a variety of salty, convenient, sweet and grain-based Frito-Lay snacks, carbonated, and non-carbonated beverages.  Net income rose 4.1% to $2 billion, compared to $1.92 billion last year.
Investing Insights: PepsiCo Inc. Earnings Cheat Sheet: Revenue Grows By Double-Digits For Fifth Straight Quarter.
"We're focused on growing our business by providing consumers around the globe with great tasting products they love at a good value, and we believe this quarter's performance is a good indication that our efforts are working," said PepsiCo (NYSE:PEP) Chairman and CEO Indra Nooyi. "We had strong revenue growth across our product portfolio and across our key geographic markets. We were able to achieve pricing to partially offset commodity cost inflation and at the same time stimulate consumer demand for our products."
Although Pepsi (NYSE:PEP) has enjoyed double-digit year-over-year percentage revenue growth for the past five quarters, gross margins decreased 2.9% to 51.9% in the third quarter.  The contraction appeared to be driven by increased costs, which rose 20.6% from the year earlier quarter while revenue rose 13.3%.  Rising commodity costs (NYSE:RJI) have prompted speculation that Pepsi should spin off its food and snack division.  As the chart below shows, Pepsi has been lagging most competitors, with the exception of Jones Soda Co. (NASDAQ:JSDA), the maker of WhoopAss Energy Drink.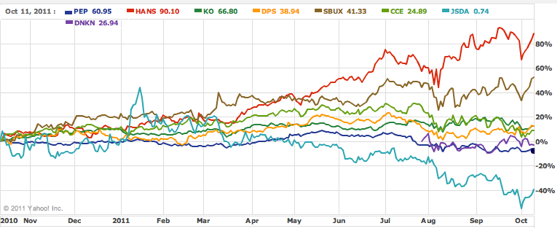 Pepsi's largest and most well-known competitor, Coco-Cola (NYSE:KO), does not have a food and snack division like Pepsi does. Today, Pepsi's CFO Johnston dismissed the idea of spinning off the company's successful food and snack division. He goes on to explain that he doesn't see the value in splitting the drink and snack business apart.  Jim Cramer also doesn't see the value.  He said, "You have a truck that goes to a supermarket, suddenly you take that away.  It makes no sense.  This is a play over the dominance of aisles of the supermarket.  I want to sell the stock if they do this.  This isn't Kraft (NYSE:KFT), which is a beleaguered brand that doesn't belong under one roof."  Drink sales have been struggling, but the recent earnings report should help ease concerns.  Shares popped 4% on the positive results today.
Two of the better performing beverage companies are Hansen Natural (NASDAQ:HANS) and Starbucks (NASDAQ:SBUX).  Hansen has been capitalizing on a more health conscious consumer, while Starbucks has been taking advantage of falling coffee bean prices.  Dr. Pepper Snapple Group (NYSE:DPS), Coco-Cola Enterprises (NYSE:CCE), and Dunkin' Brands (NASDAQ:DNKN) are all relatively flat for the year.  Going forward, investors will need to monitor grain and commodity prices, as a rise will impact the bottom line for Pepsi's Frito-Lay division.
Don't Miss: Is Inflation About to Spread More in the Food Industry?