Will Procter & Gamble's New CEO Give Bill Ackman What He Wants?
An interesting detail about the announcement last week that Bob McDonald will retire as CEO of Procter & Gamble (NYSE:PG) is that his exit wasn't the headline. The press release issued by P&G led with the news that A. G. Lafley, who led the company from 2000 to 2009, would be joining the company as Chairman and, President, and CEO.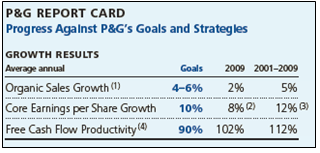 For anyone familiar with what's been going on at the company over the past few years, this is hardly surprising. Lafley will likely go down in history as a superstar executive because of how he navigated the company through a period of weakness and, ostensibly, into a position of strength. When the company began assigning itself report cards in its annual reports in 2005, the company outperformed or met its goals every year until 2009, in the wake of the financial crisis.
After 2009, the report cards started getting blurrier and more ambiguous as global recession and economic downturn took its toll on the company. Organic sales growth declined from a 5 percent annual average under Lafley to just "1-2 percent above market growth rates" in 2010 and 2011. In 2012, P&G reported 3 percent annual growth, but the damage had been done.
By the end of 2012, shares had pretty much done nothing but trade sideways, and investors were beginning to put pressure on the company to shake things up.
Chief among the activist investors is Bill Ackman, who runs Pershing Square Capital Management. The $12 billion fund owns approximately 29 million shares of P&G, and Ackman laid out a thesis at the Sohn Investment Conference earlier in May that touted the company as "one of the great businesses of the world." Directly relevant to investors, Ackman argued that through a mix of management and structural changes, the company could increase earnings per share by 50 percent and nearly double its stock price over the next few years.
Ackman argues that P&G is "vastly under-earning relative to its intrinsic earnings power." He laid out the reasons why in the presentation at Sohn:
As indicated at the bottom of the slide, many of these issues are addressable. In fact, P&G is already entrenched in an ambitious $10 billion cost-cutting program and recent reports indicate that the company is restructuring its core product divisions. In short: Lafley came back for a reason, and he's getting to work.
P&G's $10 billion cost reduction plan is broken down into four broad parts. The lion's share of the savings ($6 billion) will come from reductions in the cost of goods sold. The rest will be more or less split between overhead savings, marketing efficiencies, and operating leverage that assumes 5 percent organic growth (in line with the 2000-2009 average under Lafley, but ambitious compared to post-2009 growth).
Most recently, people familiar with the matter have told Bloomberg that P&G is planning to reorganize its management structure. Currently, the company organizes its products into two broad divisions: beauty and grooming, and household care. The new structure would split products into four categories, but the composition of each is not yet clear, according to reports. Each section would have a president that reported directly to Lafley.

Don't Miss: Is Wal-Mart Finally Dealing With Factory Safety?