Will Rising Crude Inventories Make U.S. Consider Exports?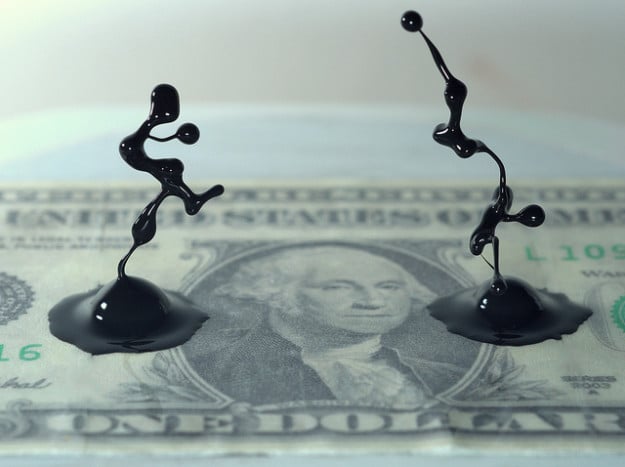 "The US is charging past traditional suppliers like Russia and Saudi Arabia and new kids on the block like Brazil," Andrew J. Slaughter, vice-president of oil and gas research at IHS, told the Oil & Gas Journal regarding the boom in United States oil production. The growth of domestic energy production was under the spotlight at the United States Energy Information Administration's 2013 Energy Conference earlier this week, while regulatory, market, and legal barriers to U.S. energy exports were also the topic of discussion at a Tuesday hearing conducted by the Energy and Power Subcommittee of the House Energy and Commerce Committee.
Surging U.S. oil production and greater energy conservation are currently helping to keep a lid on oil prices worldwide. In its annual statistical review, BP (NYSE:BP) reported last week that oil output rose 14 percent in 2012. The million barrel-per-day increase in output was the largest increase for any country last year, and the largest single year gain in U.S. history. While oil prices are currently teetering close to the $100-per-barrel market, they have not crossed the $100 line in more than a year.
"The tidal wave of oil coming out of the United States helped to [quench] the market's thirst," Blake Clayton, a Fellow for Energy and National Security at Council on Foreign Relations, told CNNMoney. "Tremendous increases in energy efficiency in the United States and Europe are helping to soften the market."
As the Energy Information Administration's petroleum status report showed Wednesday, the United States is "very well supplied," as McAlvany Financial Group Chief Executive Officer David McAlvany told Bloomberg.
The West Texas Intermediate — or WTI — crude fell after the government's data revealed that U.S. inventories unexpectedly rose last week. Prices for July delivery dropped as much as 0.4 percent after the EIA, the Energy Department's statistical arm, said supplies increased by 313,000 barrels. Comparatively, analysts polled by Bloomberg had forecast inventories to drop by 500,000 barrels. With this increase, inventories jumped to 394.1 million barrels in the week ended June 14, a level slightly below the 82-year high of 397.6 million barrels reached on May 24.
Part of the increase was driven by a jump in crude oil imports, which reached 8.44 million barrels per day last week, the most since December 7.
"The small gain in crude inventories is kind of bearish," Iitrader.com senior market strategist Bill Baruch told the publication. Just after 11 a.m. in New York, WTI for July delivery — which expires Thursday — was trading down 0.3 percent, at $98.13 per barrel on the New York Mercantile Exchange after climbing to $99.01, the highest intraday price since September 17. Brent for August settlement decreased 10 cents to $105.92 per barrel on the London-based ICE Futures Europe.
With high supplies are pushing prices down, the conversation surrounding crude oil exports has changed. "A year ago, we weren't even talking about oil exports," Alaska Senator Lisa Murkowski said at the Energy Conference, according to the Journal. "We have to move through a lot of psychological hurdles first. You're not going to see a conversation in Congress about oil exports this summer—we need to talk about LNG first—but I think we're going to have it sooner than many people think."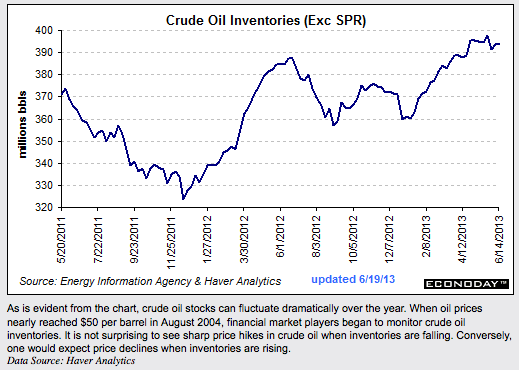 Follow Meghan on Twitter @MFoley_WSCS
Don't Miss: Here's Why Markets Turned Confident.