Will Shares of United Continental Continue to Fly High in 2013?
With shares of United Continental Holdings, Inc. (NYSE:UAL) trading around $24.19, is UAL an OUTPERFORM, a WAIT AND SEE, or a STAY AWAY? Let's analyze the stock with the relevant sections of our CHEAT SHEET investing framework:
E = Equity-to-Debt Ratio is Close to Zero
United's debt-to-equity ratio of 6.63 reflects a tremendous amount of debt that looks more normal when compared against its major competitors. It's important to understand this in relation to the company's long-term debt and total cash on hand, which for United Continental is $12.2 billion in debt and $6.76 billion in cash.
This compares to competitors such as US Airways Group, Inc (NYSE:LCC), which has a debt-to-equity ratio of 6.02, wit $4.57 billion in long-term debt and $2.44 billion in cash. Delta Air Lines Inc. (NYSE:DAL) clocks in at a debt-to-equity ratio of 7.42, with $12.66 billion in long-term debt and $3.63 billion in cash.
Airlines as an industry have been working to reduce their total debt load in the wake of a bankruptcy epidemic. For its part, United filed for Chapter 11 in December of 2002.
A = A-Level Management Runs the Company
There's no point in having a well-oiled machine if nobody knows how to use it.
On December 14, United named president and CEO Jeff Smisek to the position of chairman of the board, replacing Glenn Tilton. Tilton served as chairman of UAL Corporation until its merger with Continental Airlines in October, 2010, and will continue to serve as a regular board member.
Smisek also came over from Continental with the merger. He began his work there as senior vice president and general counsel to the team that helped turn the airline around after it filed for Chapter 11 in 1983. Smisek joined in 1985, a year before the Airline emerged from bankruptcy, and in 2004 was named president and was elected to the company's board.
Also on December 14, Jim Compton became vice chairman and chief revenue office, and Jeff Foland became EVP of marketing, technology, and strategy.
"Now is the time to begin the next phase for United, as we continue on the path to becoming the world's leading airline," Smisek said in a statement. "This structure aligns our senior management team to most effectively and efficiently meet the challenges and opportunities of this next phase."
T = Technicals on the Stock Chart Indicate an Up Trend
As of January 2, United's stock price was 4.50 percent above its 20-day simple moving average, or SMA; 10.17 percent above its 50-day SMA; and 8.39 percent above its 200-day SMA.
The stock is currently in a clear up trend, with 23.70 percent gains for the past 52-week period.
As a benchmark, the S&P 500 is up 11.68 percent for the past 52-week period.
It's worth pointing out that the stock is trading just about 10 percent below its 52-week moving average, which is about where it previously met resistance.
E = Earnings are Increasingly Strong
The airline industry was just hitting its stride again before the financial crisis hit. Just glancing at the yearly earnings, the effects are obvious and unattractive for many investors who don't like the industry's sensitivity to the global economy and consumer behavior. Economic headwinds magnify when weighing on the sector.
2007
2008
2009
2010
2011
Revenue ($) in millions
20,143
–
20,194


+0.25%

16,335


-19.11%

23,229


+42.20%

37,003


+59.30%

Diluted EPS ($)
2.78
(42.20)
(4.32)
1.00
2.26
But there is a clear, positive trend over the last two years. An expanding top and bottom line are turning a lot of heads, and as the stock chart confirms investors are bidding up this company's equity.
Comparing the company's quarterly earnings announcement with its stock chart reveals that its third-quarter results, announced at the end of October, corresponded with a fairly steep sell off. Both revenues and earnings shrank, but this news only temporarily warped the stock's upward trend. The relatively weak quarter ultimately appeared priced in, and the floor kept rising until the stock had no where to go but up.
Sep. 30, 2011
Dec. 31, 2011
Mar. 31, 3012
Jun. 30, 2012
Sep. 30, 2012
Revenue ($) in millions
10,171
–
8,928


12.22%

8,602


3.65%

9,939


+15.54%

9,909


-0.30%

Diluted EPS ($)
1.69
(0.42)
(1.36)
0.86
0.02
Consolidated revenue passenger miles, the number of miles traveled by paying passengers, for the third quarter dropped 1.2 percent year over year, an indicator that should raise some eyebrows. Looking at the company's November 2012 operational performance report shows that RPM dropped another 2.3 percent, making year-to-date RPM losses of 2.2 percent.
E = Excellent Performance Relative to Peers
Many investors favor return on equity as a key metric to diagnose how well a company is performing. Unfortunately, United gets the short end of the stick on this metric. With an ROE of -11.56 percent, United doesn't appear to be very good at turning equity into profits. The figure is particularly unappealing when compared to the current ROE figures for Delta and US Airways, which are 242.27 percent and 134.42 percent, respectively.
Operating margins are also critical for stock evaluation, and United's negative ROE foreshadows its low margin of just 1.47 percent. The one plus side of this margin is that United could bill itself as a discount carrier, but Delta's operating margin of 6.88 and U.S. Airways' margin of 6.12 still look more attractive, especially given United's low RPM.
T = Trends Say: Watch Fuel Prices
There are few things that affect the airline industry more than the price of jet fuel. Look at the fuel's price history, it's easy to see that the 2008 collapse moved from historic highs to recent lows.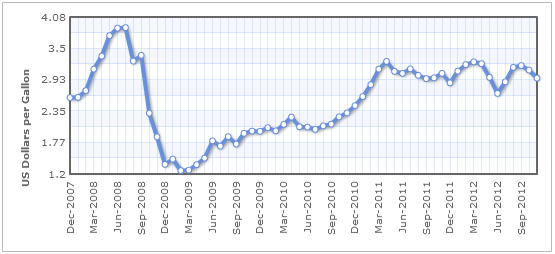 Prices dropped back below $3.00 per gallon in November of 2012. The company reported an 8.3 percent increase in fuel costs to a total of $10 billion for the first three quarters of 2012. Curbing this costs is a top priority for airlines, especially those like United that are operating on a razor-thin margin. United's estimated fuel costs for the fourth-quarter were $3.28 per share, making estimated full-year costs $3.27 per share, which includes the impact of cash-settled hedges.
Conclusion
For the dividend hunters out there, United doesn't offer one.
On December 28, Sterne Agee and Dahlman Rose both reiterated a "Buy" rating on United Continental's stock — Sterne Agee with a $35 price target, a 44.7 percent upside on its January 2 closing price, and Dahlman rose with a $29 price target, a 19.8 percent upside.
In general, analysts favor this stock with a "Buy" rating, and the current mean price target of $27.89 is 15.29 percent over its January 2 closing price of $24.19, and 7.9 percent above its 52-week high of $27.89.
Because of this, and the metrics above, United looks like it may continue to OUTPERFORM.
Using a solid investing framework such as this can help improve your stock-picking skills. Don't waste another minute — click here and get our CHEAT SHEET stock picks now.