Will Strong Manufacturing Data Be a Boon To Monday's Markets?
Overall manufacturing business conditions continued to improve in March, according to final Markit U.S. Manufacturing PMI data. The final reading of the purchasing managers' index increased from 54.3 in February to 54.6 in March, indicating a faster rate of expansion. This is just slightly below the first-quarter 2013 average of 54.9.
The overall Markit PMI Index is a function of 11 components reflecting different aspects of the industry. Any reading above 50.0 indicates an increase or improvement in that segment, while a reading below indicates contraction or a worsening of conditions. By this measure, key components such as Output and Employment increased, signaling expansion at a faster rate than before.
However, New Export Orders, Backlogs of Work, and Stocks of Purchases all reversed direction for the month, moving from expansion in February to contraction in March. Other components such as output and input prices continued to expand but at a slower rate than in February…
"Manufacturers enjoyed another month of output and order book growth in March, finishing off the best quarter for two years. The sector will have provided a firm boost to the economy in the first quarter, with output possibly growing by as much as 2 percent (roughly 8 percent annualised) compared to the final quarter of last year," commented Markit chief economist Chris Williamson.
"It is encouraging to see the upturn generating more jobs with the survey suggesting that approximately 15,00 extra employees were taken on in the sector in March," he added. The employment component of the index increased from 53.5 to 54.6 month over month, a higher rate than the average for 2012.
Strong U.S. PMI data comes on the heels of positive manufacturing data out of China, which showed that the nation's PMI hit an 11-month high in March. Combined, the news may help buoy U.S. markets and push the S&P closer to its intraday record. At 9:50 a.m., the Dow was up 0.12 percent, the S&P 500 was off 0.06 percent, and the NASDAQ was up 0.03 percent.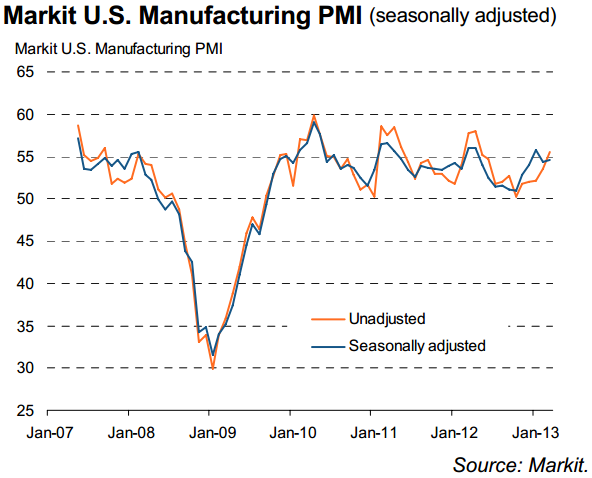 Don't Miss: Here are the Top 5 Blue-Chips of the Year.