Will Tesla's Model S Bleed Red After NHTSA Investigation?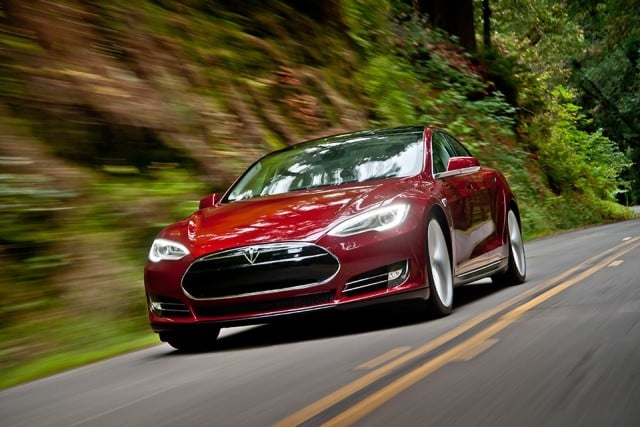 Tesla (NASDAQ:TSLA) CEO Elon Musk has long lauded the safety of his iconic Model S car, and back in August, we learned that government safety agencies agreed. Tesla's Model S received the top five-star rating in each round of the National Highway Traffic Safety Administration testing that summer, and Consumer Reports also gave the sedan one of its highest ratings ever based on its test drives and reliability data. Unfortunately, those ratings were granted months before disaster began to strike for Musk, and now the Model S is reportedly at risk for a large-scale NHTSA investigation and possible recall.
According to Bloomberg, the Palo Alto, California-based company has now suffered three Model S fires in five weeks, and regulators will need to determine whether the blazes really were freak accidents, or were caused by a design flaw in the car. The first occurred on Oct 1 in Kent, Washington, the second in Mexico, and the third in Tennessee last week, and though no driver was injured from the blaze, consumers have voiced concern over the true safety of lithium-ion battery cars — and the company's stock has plummeted more than 29 percent.
The NHTSA hasn't discussed the fires beyond a Nov 8 statement following the Tennessee incident, and Musk maintains that, "There's definitely not going to be a recall," but Clarence Ditlow, executive director of the Center for Auto Safety asserted on November 8 that the NHTSA "absolutely has to investigate" because the metal shielding on the car's undercarriage may not be able to prevent road debris from penetrating its lithium-ion battery packs.
Bloomberg reports that the CEO recognized these increased concerns at the New York Times' Dealbook conference in New York Tuesday, still maintaining that his sedan is "five times less likely" to have a fire than a gasoline-powered car, but analysts still aren't so sure. Tesla shares closed at $137.80 that day, following Musk's comments, and the 29-percent stock drop since Oct 1 follows after the stock gained more than five-fold this year through Sept 3o.
Still, although an investigation may soon unfold, there's no saying that a recall will definitely result. The NHTSA already studied the Oct 1 fire following the end of the government shutdown, and it reported on October 24 that it found no evidence that the first fire resulted from defects or violations of U.S. safety standards. Musk has had a good explanation for each blaze that has occurred, and all three drivers of the Model S sedans also have reported satisfaction with the cars and don't place blame on the Model S.
In a blog post November 9, the driver of the Model S from Tennessee, Juris Shibayama, even wrote that, "This experience does not in any way make me think that the Tesla Model S is an unsafe car. I would buy another one in a heartbeat," and the other drivers have shared the same sentiments. Shibayama blames the "rusty three-pronged trailer hitch" for the fire that occurred on Interstate 24 in Tennessee on November 7, and safety regulators may agree if they decide to investigate. According to Bloomberg, Musk says that "NHTSA has real problems to deal with where people die or area seriously injured. Their time is preoccupied with that, not with fictional issues created by the media." Nonetheless, the agency may have no choice to investigate as consumer concern continues.
Don't Miss: 8 New Cars Coming to Thrill You in 2014.