Will the Government Shutdown Delay the Keystone Decision?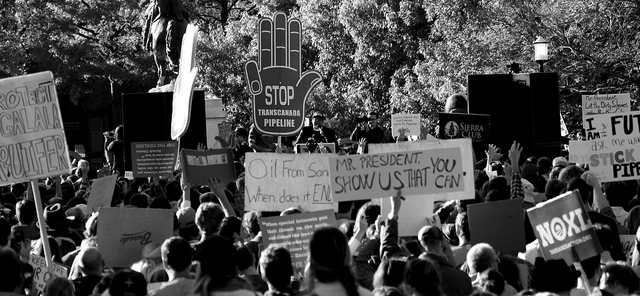 The government shutdown could have an unforeseen impact on the State Department's study of the Keystone Pipeline, Reuters reports. The State Department is currently working on its final report that will assess the impact of the Keystone Pipeline on the environment and on the economy.
The report was due to be finished sometime this month, which would allow President Obama to being to evaluate the feasibility of the project at that time. A decision by the president would then have been expected sometime early in 2014, if not earlier.
However, the government shutdown is expected to slow down the process, perhaps by a considerable amount. Though the State Department's study itself is funded by a guaranteed multi-year grant, the study closely relies on data and other consulting services from different government departments, such as the Environmental Protection Agency and the Department of the Interior. The EPA has been especially hard hit by government furloughs, as many of its employees are not considered absolutely necessary for the continuation of the country.
Many environmentalists have campaigned against the pipeline, saying that it will cause increased development of the environmentally damaging tar sands in Canada. They also claim that the pipeline poses significant risks from oil spills, also citing the massive cost of the program and the land that the pipeline would need to occupy. Some have gone so far as to launch protests against the pipeline's construction.
Proponents of the pipeline point to the fact that the oil will be transported into the United States either way, with the only difference being the increased efficiency of the pipeline.
In addition to translating to cost savings to consumers, they claim that the pipeline is not as risky, spill-wise, as transporting the oil by train or by truck. They even go so far as to say that the difference in the development of oil production in Canada would proceed regardless of the existence of the pipeline.
In a preliminary report issued this past March, the State Department appeared to side with the pipeline's proponents. However, critics have stated that the report did not fully take into consideration all of the environmental factors in play.
The delay in the report, which now may not be completed until November — or even later, if the shutdown continues much longer — could push back President Obama's final decision on the matter. Republicans have claimed that the shutdown has provided Obama a convenient excuse to delay his choice, which now would be a surprise were it to be made before the end of this year.
Don't Miss: IRS to Congress: Obamacare Glitches Not Our Fault.