Will The Housing Market See a Recovery in 2013?
Despite increasing interest rates, applications for home mortgages in the United States rose last week and refinancing accounted for a slightly smaller portion of that activity.
The Mortgage Bankers Association said on Wednesday that its seasonally adjusted index of mortgage application activity — which includes both refinancing and home purchase demand — jumped 3.4 percent in the week ended February 1. This compares to a decrease of 8.1 percent the previous week. On an unadjusted basis, the index jumped 16 percent.
Along with the survey of mortgage application activity, the MBA reported that its seasonally adjusted index of refinancing applications rose 3.5 percent, while its measurement of home loans, an important indicator for home sales, increased 2.2 percent.
Of the total mortgage activity, 78 percent of applications were for refinancing, down from 79 percent the week before….
In addition, fixed 30-year mortgage rates averaged 3.73 percent last week, an increase of 6 basis points from the previous week, and the contract interest rate for 30-year fixed mortgages has risen in seven of the last eight weeks.
The MBA covers more than 75 percent of U.S. residential mortgage applications, the industry group said in the accompanying press release.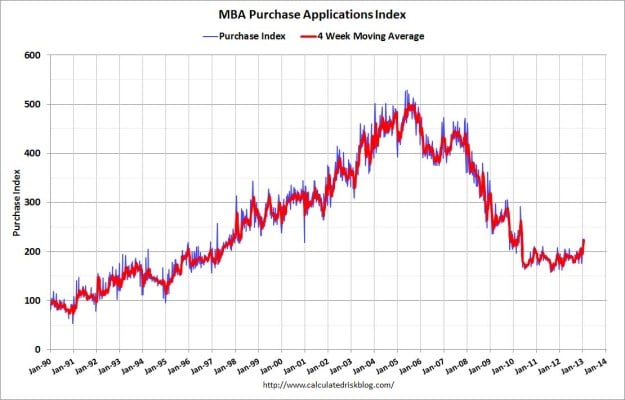 Don't Miss: Home Prices Fuel Real Estate Euphoria.