Will the Inflation Grinch Show Up This Christmas?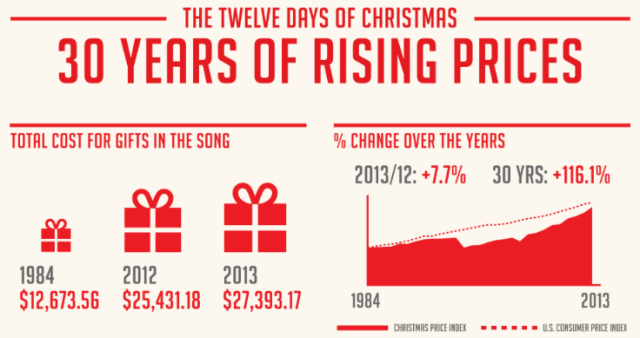 Over the past five years, the Federal Reserve has been trying to prevent Mr. Market from receiving a lump of deflation. With multiple quantitative easing programs and record low interest rates, the central bank helped push equity prices higher, but still hasn't sparked significant movement in the official inflation numbers. However, a more Christmas-themed inflation gauge is on the rise.
Buying all the items in the classic holiday song "The 12 Days of Christmas" will set consumers back more than ever this year. According to PNC Wealth Management, the current cost for one set of each of the gifts mentioned in the song is $27,393.17, up 7.7 percent from $25,431.18 a year earlier. That is an all-time high and the biggest jump since 2010 when the index gained 9.2 percent.
"We were surprised to see such a large increase from a year ago, given the overall benign inflation rate in the U.S., but the dancers in the index took a huge leap this year to play catch up from paltry increases the previous few years," explained Jim Dunigan, managing executive, Investments of PNC Wealth Management.
The PNC Christmas Index has gained 116 percent since its inception 30 years ago. Interestingly, PNC notes that its track-record is similar to the Consumer Price Index, which is produced by the U.S. Bureau of Labor Statistics and measures price changes in goods and services.
"While there are exceptions in given years, what's most interesting about the index's history is that since the beginning, year-over-year increases have averaged 2.9 percent, which is exactly the same number as the U.S. inflation index," said Dunigan.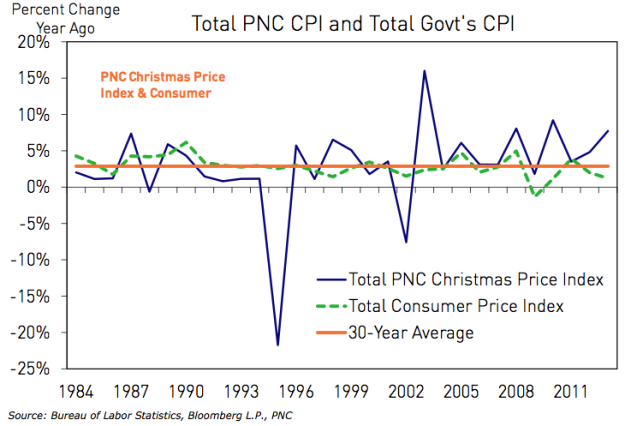 PNC even has a core index that removes swan pricing, which is usually the most volatile aspect of the "12 Days of Christmas." This year, the core index surged 10.6 percent to $20,393.17 from $18,431.18 in 2012. Meanwhile, the total cost to purchase all 364 gift items mentioned in the song increased 6.9 percent to $114,651.18 in 2013, compared to $107,300.84 in 2012.
Don't Miss: Will Stocks Suffer a Thanksgiving Hangover?
Follow Eric on Twitter @Mr_Eric_WSCS