Will the Shutdown Meddle With Student Loans and Higher Ed?
Congress has become everybody's favorite punching bag. According to a Gallup survey published in August, America's policymakers have an approval rating of just 14 percent and an astonishing disapproval rating of 81 percent. It turns out that institutional dysfunction and crisis hopping are not what people want to see in the upper echelons of government.
Right now, everything wrong with the current political environment in the U.S. has manifested itself in the partial shutdown of the federal government. On Tuesday, having failed to pass a stopgap funding measure known as a continuing resolution, the government was forced to furlough all nonessential personnel — approximately 800,000 civil servants.
One of the big, hard-to-answer questions floating around in the ether right now is this: What kind of damage will this cause? The answer is by no means clear — the IHS has estimated $300 million per day, but results may vary — but the bad mojo is likely to seep into nearly every corner of the economy. And one of the ways that it could spread is through higher interest rates.
The yield on the 10-year U.S. Treasury note has already increased dramatically over the past few months, thanks to speculation over whether the Federal Reserve would taper asset purchases. After hitting a low near 1.6 percent in May, yields rocketed up to nearly 3 percent in early September, only settling back down after the Fed announced that it would not, in fact, taper purchases (the markets jumped the gun on that one).
Thanks to the enormously accommodative position of monetary policy right now, interest rates have been fairly low for most of the recovery. Legislation passed earlier this year also formally linked the rate paid by students on federal education loans to the market, specifically, the 10-year Treasury. By and large, this was seen as a good move — better than having Congress arbitrarily determine a flat rate — but critics of the legislation warned of something exactly like this happening.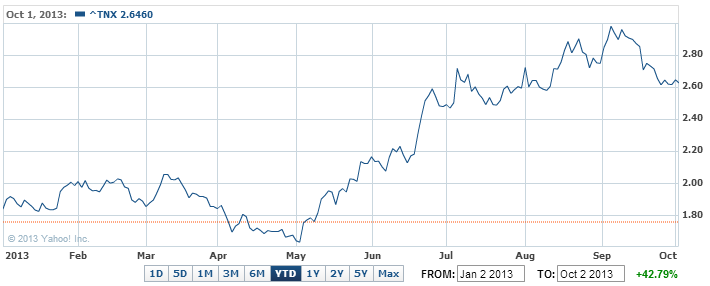 The new student loan rates have been fixed to 10-year Treasury note plus a premium to "offset costs associated with defaults, collections, deferments, forgiveness, and delinquency," according to the bill. These rates are retroactive to loans made since July 1, when the previous rates doubled.
| | | |
| --- | --- | --- |
| | Rate (+percentage point) | Cap (percent) |
| Undergrad | 10-year +2.05 | 8.25 |
| Graduate | 10-year +3.6 | 9.5 |
| PLUS Loan | 10-year +4.6 | 10.5 |
In the short term, the approximately 14 million students who are currently the recipients of federal student loans and Pell grants will be unaffected, but the Department of Education has warned that a prolonged shutdown could force furloughs of more employees and complicated operations.
What's more, the DoE warned that a "protracted delay in Department obligations and payments beyond one week would severely curtail the cash flow to school districts, colleges and universities, and vocational rehabilitation agencies that depend on the Department's funds to support their services. For example, many school districts receive more than 20 percent of their funds from Department-funded programs. Colleges rely on Higher Education funds to pay ongoing expenses of staff running programs for disadvantaged students seeking to enter and stay in college. Vocational rehabilitation agencies receive 80 percent of the cost of providing services to adult individuals with disabilities from the Department's program."
Don't Miss: "Opt Out of Obamacare" Campaign Has Some Major Flaws.