Will the U.S. Become a Natural Gas Exporter?
Thursday's weekly report on United States natural gas stockpiles, released by the Energy Information Administration, contained no surprises: inventories rose by 30 billion cubic feet last week, well within the range of 27 to 31 billion feet expected by analysts. Ahead of the announcement, natural gas futures prices were up approximately 2.2 percent, at $4.19 per million British thermal units, but fell slightly to $4.17 immediately following the report.
In total, the U.S working stockpile of natural gas amounted to 1.73 trillion cubic feet, roughly 94 billion cubic feet lower than the five-year average of 1.83 trillion cubic feet. Because cool weather has lingered, natural gas inventories have contracted, pushing prices up. As a result, coal has become a more attractive option for power generation and natural gas producers have boosted their output.
United States power plants did begin to burn more coal in February because of the rising natural gas prices, but coal's resurgence will not overcome its long-term decline, according to a study released Tuesday by the EIA. The department analyzed the competition between coal and natural gas in the electric power sector under five scenarios that reflected variations in both cost and supply. "In all five cases, coal-fired generating capacity in 2025 is below the 2011 total and remains lower through 2040, as retirements outpace new additions of coal-fired capacity," stated the EIA's 2013 Energy Outlook…
Because the U.S. is beginning to produce more and more of its own energy, pressure for the federal government to export its abundant natural gas stockpile is increasing — a policy that has already met with stiff resistance from some players in the natural gas market. The current surge in shale oil production has changed the U.S. from an importer of natural gas to a producer of about 2 million barrels per day, according to the EIA. The surplus that has been created has launched a great debate about how the U.S. should use natural gas for its economic benefit.
"I believe very strongly in free trade and the responsible development of American energy exports, with an eye toward job creation and increased prosperity," Alaska Senator Lisa Murkowski, the ranking Republican on the Senate Energy Committee, said at Bloomberg's New Energy Finance conference this week. Currently, the Department of Energy is receiving a growing number of requests to expedite the process to sanction more U.S. companies as natural gas exports. But some companies active in the market for natural gas, which like prices to remain low, are resistant to the possibility of energy surpluses being shipped abroad, reported CNBC.
Reporting first-quarter earning Thursday morning, Exxon Mobil (NYSE:XOM) — the nation's largest producer of natural gas — was down as much as 0.9 percent at $88.63 after the report, while Chesapeake Energy (NYSE:CHK) gained about 1.3 percent, trading at $19.54, and EOG Resources (NYSE:EOG) increased 2.7 percent to $123.20. Comparatively, the U.S. Natural Gas Fund (NYSEARCA:UNG) rose slightly to $22.78.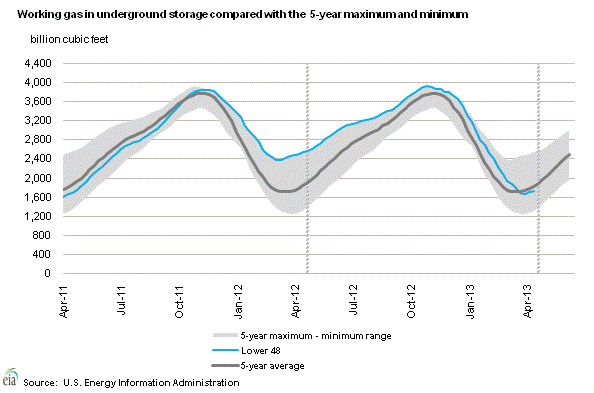 Investing Insights: Is Petrobras a Risky Investment?