Will the US-American Merger Jack Up Your Airfares?
Concerns have risen about just what effects the merger between US Airways (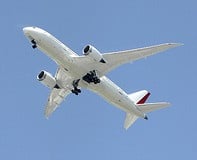 The two airlines have been working toward a merger for some time due to the bankruptcy of American Airlines, and they finally received the necessary approval from a federal bankruptcy judge at the end of last month. But the consequences of the $11 billion merger may be bigger than initially expected.
One of the biggest problems to come out of a merger of this size is a major reduction of competition at the airlines' hub airports. Since the combined airline is now the biggest operator in traffic in the United States, any airports that had been used as hubs by both US Airways and American Airlines before the merger could see a drastic loss of competition, which would leave the fares for flights on many of the routes that take off out of those hubs to be decided by the airlines, rather than by competition and demand…
Other recent airline mergers present a compelling picture of what may happen: United Airlines and Continental Airlines merged into United Continental Holdings (NYSE:UAL) in 2010, giving the combined airline a 79 percent share of the traffic between Chicago O'Hare Airport and Houston's Bush Intercontinental Airport. In the three month period ended September 2012, United Airlines fares for the route were 57 percent higher than they were 3 years prior, meanwhile its total average domestic price per mile only climbed 16 percent.
So clearly, the suggested fare hikes from hub airports can happen, and many worry it will soon start happening with US Airways and American Airlines. For example, according DOR data for last year's third quarter, US Airways and American airlines carried 54 percent and 44 percent of all travelers flying between Philadelphia and Miami, respectively. Combined, that would give them 98 percent of the traffic on that route, leaving little room for any actual competition to occur.
Director of the American Antitrust Institute, Diana Moss, has spoken out, saying, "There are definitely routes where competition will be significantly eliminated" and added that there have been be fare increases and "very few fare decreases."…
But Delta Air Lines (NYSE:DAL) spokesman Anthony Black offered support for the newly merged airlines in this debate, saying that the merger airline has seen increases in traffic and that "because demand went up, fares went up."
One former airline employee wrote an opinion piece for Forbes, and suggested that the merger would definitely increase fares, but that it was a necessary move for the airlines due to the cost related to operating the flights. He said that higher fares are necessary for sustaining the airlines in the long run, and also that they will enable the merged airline to improve the safety on all of its aircraft.
US Airways CEO Douglas Parker said that the merger was not about raising fares, but many suggest that routes from hub locations will be more expensive. During the court hearings for the merger, executives from the two airlines said that they had no fare hikes in their financial projections, and that their merger would increase competition nationwide among their merger airline, United, and Delta
Don't Miss: Student Debt Weighs on Graduates Seeking Homeownership.