Will More Than Just America Run on Dunkin'?
The America Runs on Dunkin' slogan may soon transform into World Runs on Dunkin'. Dunkin' Brands Group Inc. (NASDAQ:DNKN), the parent company of Dunkin' Donuts and Baskin-Robbins, is one of the world's leading franchisors of quick service restaurants. In an effort to improve its standing and capture market share in emerging nations, the company plans to open hundreds of new outlets outside of the United States.
During a launch event held in New Delhi on Wednesday, the Massachusetts-based company said it plans to open 350-450 outlets outside of the U.S. in 2012, with many of them being in Asia. The launch event was held to celebrate Dunkin's third store opening in India. Earlier this month, Dunkin' opened two stores in the country through its joint venture with Jubilant FoodWorks Ltd. Over the next 15 years, the joint venture has a goal of opening 500 outlets.
Don't Miss: Pepsi and Twitter Want to Give You Complimentary Tunes
"Emerging markets are attractive because they are growing very quickly, they've a fast-growing middle class, and they love American brands," Dunkin' Brands Chief Executive Nigel Travis explained, according to the WSJ. He also added that emerging markets will contribute a "disproportionate" part of the company's future revenue and Dunkin' plans on entering the Brazilian market this year.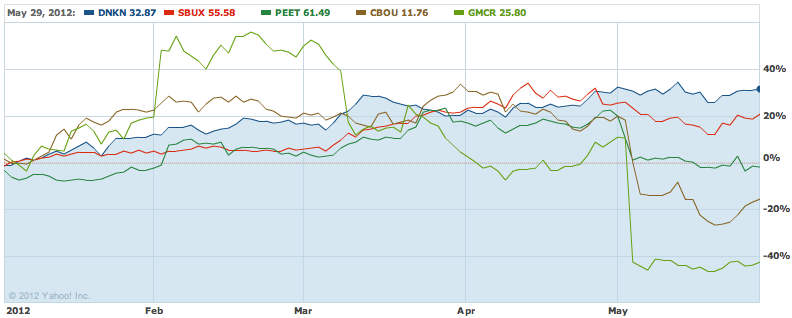 As the chart above shows, publicly traded coffee names have largely been correlated with each other until recently. The sell in May and go away mantra has left Dunkin' Brands and Starbucks Corp. (NASDAQ:SBUX) as the two clear winners on the table. Year-to-date, the two coffee giants have gained 29 percent and 19 percent, respectively. Meanwhile, Peet's Coffee & Tea Inc. (NASDAQ:PEET) and Caribou Coffee Co. (NASDAQ:CBOU) have declined 4 percent and 15 percent, respectively. Green Mountain Coffee Roasters Inc. (NASDAQ:GMCR) has been the most sobering coffee play this year, with shares crashing more than 44 percent.
Dunkin's push into new growing markets bodes well for the C= 'Catalyst for a Stock's Movement' in our CHEAT SHEET investing framework. According to the WSJ, India's café market is expected to increase to $680 million in annual sales by the end of March 2016, compared to $190 million last year. Starbucks is also worth a look, as the Seattle-based company plans on opening its first store in India later this year.
On Wednesday, shares of Dunkin' Brands closed 1.76 percent lower. At the end of last year, Dunkin' Brands' nearly 100 percent franchised business model included more than 10,000 Dunkin' Donuts restaurants and more than 6,700 Baskin-Robbins restaurants. The company also has nearly 200 stores located in China and plans on opening 250 more stores in the nation over the next four years.
Investor Insight: Does This Spell BAD NEWS for Pandora?