Will This Natural Gas Glut Change the U.S. Energy Landscape?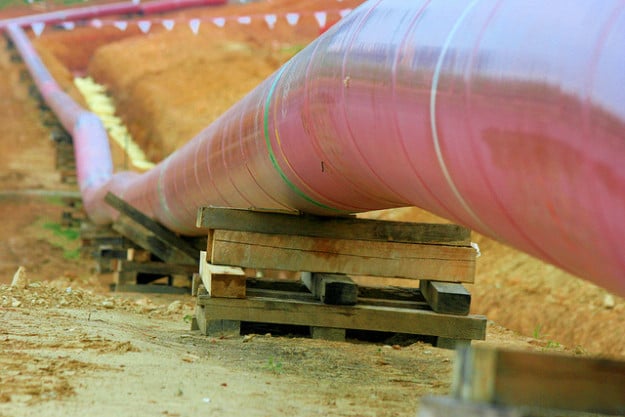 Renewable energy has taken top billing in President Barack Obama's agenda this week. Speaking in Washington, D.C., he outlined his administration's goals for decreasing carbon emissions, saying he would ask the State Department to prevent the Keystone pipeline from being built if it would generate more harmful pollutants. The pipeline would send crude oil from Canada to Gulf Coast refineries.
But natural gas also received mention. While the president acknowledged concerns from environmentalists about the harmful effects of hydraulic fracturing, or "fracking," Obama said Tuesday that "cleaner-burning" natural gas is creating jobs, reducing greenhouse gas emissions, and lowering utility bills for many Americans.
The production of natural gas from horizontal drilling and fracking practices have pushed supplies to record highs during Obama's terms. The International Energy Agency expects natural gas production to grow 2.4 percent each year through 2018.
Data supplied by the U.S. Energy Information Administration, the statistical arm of the Department of Energy, has shown that the current supply of natural gas is 31 billion cubic feet shy of of its five-year average of 2.56 trillion cubic feet. The EIA reported that U.S. natural gas stocks increased by 95 billion cubic feet last week, surpassing expectations for a 88-billion cubic foot gain. In total, U.S. stocks of natural gas totaled 2.53 trillion cubic feet, down from the 3.05 trillion cubic feet stockpiled in the same period a year ago.
Ahead of the release, natural gas futures were down about 1 percent at $3.69 per million British thermal units, and dropped to $3.62 immediately after the EIA report.
As the decline in natural gas futures makes evident, the glut of natural gas has posed difficulties for producers. The fuel cannot be easily stored, unlike oil, and as a result, drilling is costing companies more than they can make selling the product.
When supply eclipses demand, the only way to increase prices is to reduce supply or increase demand. Reducing the supply is not an easy proposition for natural gas producers: Their contracts on wells often require them to keep drilling in order to maintain the lease. But demand for natural gas in the U.S. appears to have plateaued, and the best way to boost demand is to access new markets abroad.
However, the U.S. has been slow to export its natural gas bounty, as many opponents caution against the adverse effects exportation would have on American manufacturers. But the globe is far from a supply glut. Jason Bordoff, the director of Columbia University's Center on Global Energy Policy and a former White House energy policy aide, told CNBC the liquified natural gas market will loosen as new export projects are launched. "That is why it is important that [the Department of Energy] move expeditiously through the pending LNG export permit applications to avoid the possibility that U.S. projects miss the window to capture long-term contracts overseas," he said.
Exxon Mobil (NYSE:XOM), the largest producer of natural gas in the United States, is also worried the federal government is working too slowly on the issue. Company CEO Rex Tillerson argued at a conference several weeks ago that government delays of natural gas export permits only hurt the country. "It's a very competitive marketplace," he said. "It's not like people are just going to stand at our door like panting dogs just waiting for us to give this [liquified natural gas] to them."
Following the EIA's report, shares of Exxon Mobil edged up 0.6 percent to $90.37.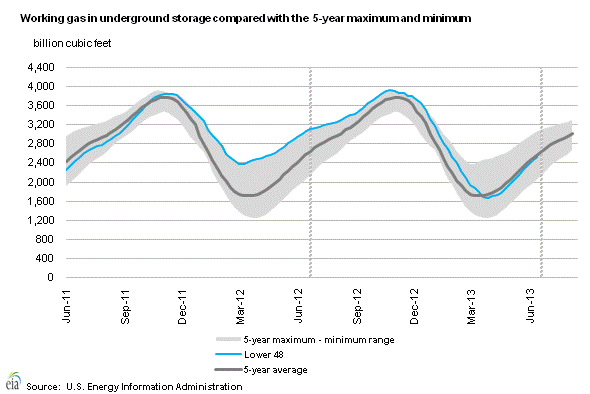 Follow Meghan on Twitter @MFoley_WSCS
Don't Miss: Is the American Consumer Making a Comeback?