Will This Negative Publicity Hurt Energy Drink Sales?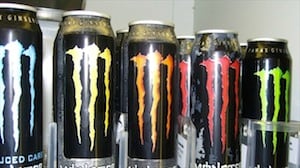 The American Medical Association, a group representing 225,000 U.S. doctors, called for a ban on marketing energy drinks to youngsters that could have negative implications for Monster (NASDAQ:MNST), Pepsi (NYSE:PEP), Coca-Cola (NYSE:KO), and Dr. Pepper Snapple (NYSE:DPS).
The group cited emergency room visits by children after consuming the drinks, and studies linking the drinks to heart problems, according to Bloomberg.
"Energy drinks contain massive and excessive amounts of caffeine that may lead to a host of health problems in young people, including heart problems," Alexander Ding, a physician and AMA board member, said in an e-mailed statement. "Banning companies from marketing these products to adolescents is a common sense action that we can take to protect the health of American kids."
Energy drinks are often promoted by extreme sports athletes, making young males a particularly vulnerable demographic. Caffeinated energy drinks have been marketed heavily to young people, despite apparent health risks, the AMA said in its resolution.
The group called for a temporary ban on energy drink advertising "until such time as the scientific evidence regarding the possible adverse medical affects that stimulant drinks may have on children and adolescents is determined."
Energy drink companies are understandably mad.
"We are disappointed that the American Medical Association passed this resolution," said Maureen Beach, a spokeswoman for the American Beverage Association, an industry trade group. "Leading energy drink companies also voluntarily display total caffeine amounts — from all sources — on their packages, as well as an advisory statement indicating that the product is not intended (or recommended) for children."
In terms of growth, energy drink sales have seen sky-high numbers over the past couple of years. However, those numbers have been tapering off lately, in part because of negative publicity.
Monster saw its lowest growth in years at only 5.1 percent for the four weeks leading up to May 11, according to CBS. This was a huge drop-off compared to average energy drink sales over the past four years, which grew 11.6 percent annually. However, growth is still growth, and a gain of 5.1 percent is encouraging with the negative publicity being fired upon energy drinks.
Coca-Cola also saw a nice gain in its energy drink sales, gaining 5.4 percent, thanks to its energy drinks Full Throttle and Nos. However, despite gaining ground in energy drink sales, Coke's primary energy drink, Full Throttle, saw its market share fall to just 1 percent.
Pepsi and Dr. Pepper Snapple both saw huge drops, losing 18.1 percent and 27.7 percent in total energy drink sales. Pepsi's primary energy drink, Amp, has only about a 3 percent market share of energy drinks as it continues to be dominated by Red Bull and Monster.
Don't Miss: Is McDonald's Ready for a Super-Sized 2013?