Will Trulia's IPO Help Restore Confidence Among Internet Companies?
The financial market has been wary of any popular Internet company going public since Facebook (NASDAQ:FB) made its less-than-stellar debut on the Nasdaq four months ago, but investors welcomed Trulia's (NYSE:TRLA) initial public offering with heavy demand.
The San Francisco-based online real estate company priced its offering late Wednesday at $17 a share, above its expected range between $14 and $16. The IPO raised $102 million by selling 6 million shares, valuing the company at roughly $450 million. Trulia's website and mobile applications track data on home prices, rentals and other local information. Pete Flint, Trulia's chief executive officer, told Bloomberg, "We help consumers find the right place to live and connect with real estate professionals. We help consumers solve really big problems."
Don't Miss: Groupon Starts Dealing With Mobile Payments
Trulia is the first major technology IPO since summer, but the market was ready to buy. Shares opened at $22.10 on the New York Stock Exchange and immediately surged higher throughout the trading day. The stock ultimately closed at $24, representing a whopping 41 percent premium to the IPO price. The rise makes Trulia the tenth best debut of the year, restoring a bit of confidence to investors and other companies. "This is an opening bell for other IPOs," claimed Flint, according to Reuters.
As the chart shows…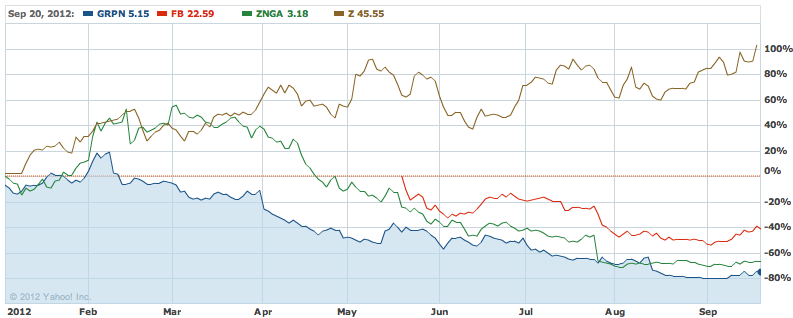 it has been a challenging year for many Internet companies. Since going public in May, Facebook shares have declined 40 percent. Groupon (NASDAQ:GRPN) priced its IPO at $20 a share in November last year, but its stock has plummeted 75 percent year-to-date. Zynga (NASDAQ:ZNGA) is also well below its December 2011 IPO price of $10. However, Zillow (NASDAQ:Z), Trulia's largest competitor, has seen its share price more than double since a July 2011 IPO.
Trulia earns revenue by selling subscriptions and advertisements. Unlike some of the beaten down Internet companies this year, it is already capitalizing from the growing trend in mobile. Trulia apps generate higher average monthly revenue per user than its web-based services. When potential home-buyers drive around town looking at homes for sale, they can use their smartphone to contact real estate agents or pull up neighborhood data via a Trulia app. The company also offers apps specifically designed for real estate agents and mortgage calculations.
In an interview with Fortune, Flint explains, "In the minds of our real estate agent subscribers, or advertisers, mobile users are more attractive to them. In fact, they spend 25 percent more in their monthly fees on mobile than on the web or desktop equivalent. We think that makes us unique."
Catalysts are critical to discovering winning stocks. Check out our newest CHEAT SHEET stock picks now.