Will Wal-Mart Abandon D.C. Plans Over Wage Dispute?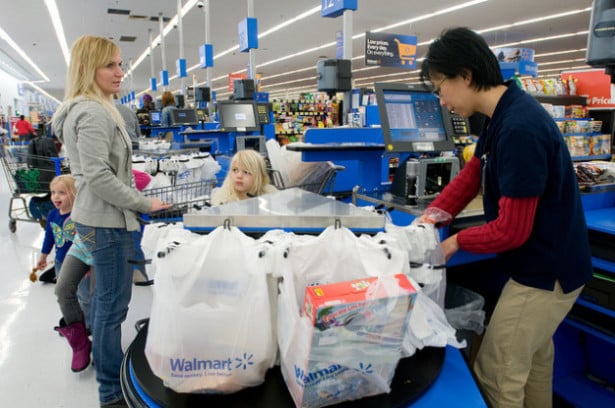 The proposed minimum-wage hike passed its Washington, D.C. City Council vote, and now sits on the desk of Mayor Vincent Gray. If Gray signs the bill into law, it would raise the district's minimum hourly rate from $8.25 to $12.50. According to Wal-Mart (NYSE:WMT) representatives, it may also mean the retail giant will abandon its ambitious plans for expansion into D.C.
The bill would dictate that all retailers with more than $1 billion in annual sales, or stores of more than 75,000 square feet, would be forced to pay employees the rate of $12.50, more than 50 percent above what smaller companies must pay. After claiming the company was a victim of bait-and-switch tactics from D.C. officials, The L.A. Times reports Wal-Mart may end its enormous project before it ever starts.
"It creates wage standards for a handful of employees while exempting two of the largest," said Steven Restivo, a Wal-Mart rep. "It's discriminatory, arbitrary and discourages investment in D.C.," he added. While D.C. politicians were hoping to raise the standard of living among low-income employees, the six proposed Walmart stores would add close to 1,800 jobs.
The Walmart stores would be located in abandoned strip malls and other depressed district locations known as "urban deserts." Walmart stores would add jobs while offering low-cost goods and services to area residents. Yet uni0n officials don't see the bargain as worth the cost.
"They can afford it, and they're worried about other cities saying, 'You come in here, you ought to pay a living wage,'" said Joslyn Williams, president of a local AFL-CIO chapter. The union factor is significant. Employers who allow employees to organize are exempt from the wage hike. Williams described Wal-Mart Inc's response to the wage hike as "outright blackmail."
Mayor Vincent Gray has been trying to find ways to turn around D.C.'s most economically depressed areas and will have to choose between resistance from unions and further delays in reviving the troubled regions of the nation's capital. Were Gray to veto the bill, it's unlikely it would be overturned.
Both sides are waiting for the other to blink in what has become a bona fide standoff. Erika Morphy wrote in Forbes that Wal-Mart won't be called on their bluff, as she expects Gray to veto the bill in short order. Council members supporting the bill see plenty of retailers waiting in the wings should Wal-Mart back out of D.C.
"If Wal-Mart doesn't make it to the nation's capital, we'll find other development projects and continue to work with residents," said Vincent Orange, who voted for the bill. Wal-Mart said it would leave the partially built stores as is if it decides the project isn't feasible.
Investing Insights: Kraft Foods: Should You Drink the Kool-Aid?