Will Wal-Mart's Dive Into the Money Transfer Business Pay Off?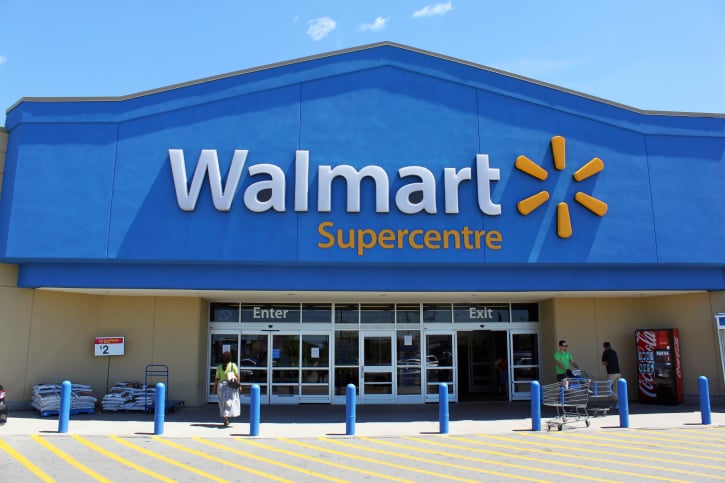 Wal-Mart Stores Inc. (NYSE:WMT) is a big box store company during an era in which big box stores are increasingly on the way out, but the company has proven skillful in adapting to changes in consumers needs and demands. In March, the company launched it's first smaller, "urban-format," convenience store model, dubbed "Walmart-to-Go." Last week, the company announced that it would begin carrying organic food, and now, according to a recent press release, the retail giant will begin offering money transfers as well — beginning on April 24.
"After listening to our customers complain about the high fees and confusion associated with transferring money, we knew there had to be a solution," said Daniel Eckert, senior vice president of services for Wal-Mart U.S., in the press release Thursday. "Walmart-2-Walmart brings new competition and transparent, everyday low prices to a market that has become complicated and costly for our customers. We're doing what we do best — launching a new service that challenges the status quo and drives down prices for our customers."
The new Walmart-2-Walmart transfer service is a partnership with the financial services firm Ria, and will allow Walmart customers to transfer up to $900 between more than 4,000 different Walmart stores across the United States. As with everything the company does, its money transfer fees promise to significantly undercut its competitors.
"Walmart-2-Walmart is a great example of how Walmart continues to partner with world-class providers to offer customers financial products and services that provide clear benefits and help them save money," added Eckert. "The entrance of Walmart-2-Walmart into the money transfer market is good for our customers and good for our business."
Walmart's entrance into the industry may mark the beginning of a pricing battle between the shiny new service and established competitors like the Western Union Co. (NYSE:WU). Through Walmart-2-Walmart, customers will be able to transfer up to $50 for $4.50, and up to $900 for $9.50. Competing services sometimes charge as much as $70 when transferring less than $1,000, according to USA Today.
Walmart already has a partnership with MoneyGram International Inc. (NASDAQ:MGI) to offer money transfers, and will continue to maintain that business, though it will likely recommend MoneyGram's services to customers who need to transfer more than $900 at a time, which is the limit for Ria's services.
MoneyGram commented on the launch of Walmart's new service simply by saying "the company is well-positioned in the U.S. domestic money transfer space, having offered a fee of $5 for $50 since 2009." The company added that, "While Wal-Mart has been our single largest agent, and experiences healthy growth, it has been decreasing as a percentage of our revenue for the past five years," according to NBC. Other reports have suggested that the company gets "nearly a quarter of their revenue" through the agreement with Walmart, however.
Western Union and MoneyGram both experienced a decline in share price following the announcement of the new service — 5 percent and 17.7 percent, respectively — though two analysts at Janney Montgomery Scott, Thoma McCrohan and Leonard DeProspo, advised investors to buy Western Union following the shares drop. The analysts say that while they believe Walmart-2-Walmart certainly has the potential to become a competitor to Western Union, "Walmart's service is somewhat limited in scope." The analysts also noted that Western Union's "46,000 agent locations are approximately 10x Walmart's 4,000 locations," according to Barron's.
"We don't see this development as having a major impact on Western Union, as it did not have a relationship with Walmart, and the offering is limited to domestic transfers," said Morningstar's Brett Horn, per Barron's, though the analyst was less positive on MoneyGram, noting that "with 30 percent of MoneyGram's overall volume coming from domestic transfers, it could be facing a double whammy of both lost volume and lower pricing."
Bottom line, Walmart's new money transfer business could put "pressure" on the pricing of domestic transfers within the U.S., but the service is unlikely to unseat Western Union anytime soon and analysts seem to agree that it's likely Walmart's newest adaptation is just as much a renewed effort to get customers in its stores as it is a play to expand its services.
More From Wall St. Cheat Sheet: