Will Yahoo! Stock Continue to Improve with Marissa Mayer?
With shares of Yahoo! Inc. (NASDAQ:YHOO) trading around $27, is YHOO an OUTPERFORM, WAIT AND SEE or STAY AWAY? Let's analyze the stock with the relevant sections of our CHEAT SHEET investing framework:
T = Trends for a Stock's Movement
Yahoo is a technology company that provides search, content, and communication tools on the web and on mobile devices worldwide. It operates Yahoo.com, which offers Yahoo! Search, Yahoo! News, Yahoo! Sports, Yahoo! Finance, Yahoo! Entertainment and Lifestyles, and Yahoo! Video. Being such a large content provider, Yahoo is able to reach a significant amount of consumers across the globe. As the internet attracts an increasing number of participants, look for Yahoo! to continue to be a major player.
Yahoo! shares have soared since CEO Marissa Mayer took the position a year ago, but her performance has not yet taken effect on Yahoo's earnings. The company is scheduled to release its earnings results after the bell today. There's no doubt that Marissa Mayer has injected new energy into the Internet giant. Mayer has revamped many of Yahoo's core products, like Flickr, embarked on an ambitious acquisition spree that included the significant $1.1 billion purchase of Tumblr, as well as returned hundreds of millions of dollars to shareholders.
Yahoo's stock price has surged by nearly 73% since Mayer became CEO, but the gain is said to be almost entirely attributable to investments the company has made in two Asian companies: the Chinese e-commerce giant Alibaba, and Yahoo! Japan. Yahoo's core advertising business continues to struggle, as competition heats up from rivals Google (NASDAQ:GOOG) and Facebook (NASDAQ:FB).
T = Technicals on the Stock Chart are Strong
Yahoo stock has been surging higher over the last several months. The stock is now trading at prices not seen sin the mid-2000s. Analyzing the price trend and its strength can be done using key simple moving averages. What are the key moving averages? They are the 50-day (pink), 100-day (blue), and 200-day (yellow) simple moving averages. As seen in the daily price chart below, Yahoo is trading slightly above its rising key averages, which signal neutral to bullish price action in the near-term.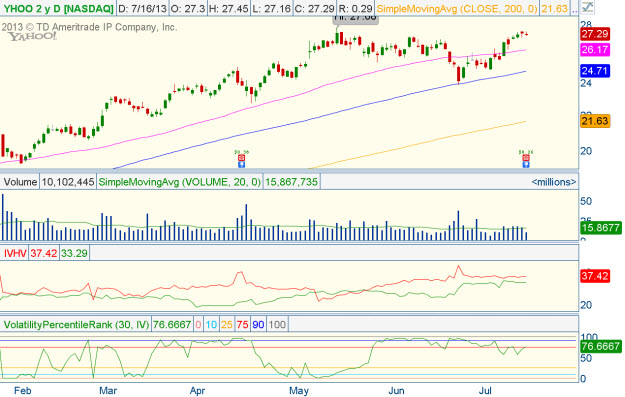 (Source: Thinkorswim)
Taking a look at the implied volatility (red) and implied volatility skew levels of Yahoo options may help determine if investors are bullish, neutral, or bearish.
| | | | |
| --- | --- | --- | --- |
| | Implied Volatility (IV) | 30-Day IV Percentile | 90-Day IV Percentile |
| Yahoo Options | 37.42% | 76% | 74% |
What does this mean? This means that investors or traders are buying a very significant amount of call and put options contracts, compared to the last 30 and 90 trading days.
| | | |
| --- | --- | --- |
| | Put IV Skew | Call IV Skew |
| August Options | Flat | Average |
| September Options | Flat | Average |
As of today, there is average demand from call buyers or sellers, and low demand by put buyers or high demand by put sellers, all neutral to bullish over the next two months. To summarize, investors are buying a very significant amount of call and put option contracts, and are leaning neutral to bullish over the next two months.
On the next page, let's take a look at the earnings and revenue growth rates, and what that means for Yahoo's stock.
E = Earnings Are Improving Quarter-Over-Quarter
Rising stock prices are often strongly correlated with rising earnings and revenue growth rates. The last four quarterly earnings announcement reactions can also help gauge investor sentiment on Yahoo's stock. What do the last four quarterly earnings and revenue growth (Y-O-Y) figures for Yahoo look like, and more importantly, how did the markets like these numbers?
| | | | | |
| --- | --- | --- | --- | --- |
| | 2013 Q1 | 2012 Q4 | 2012 Q3 | 2012 Q2 |
| Earnings Growth (Y-O-Y) | 52.17% | -2.15% | 1048% | 0.00% |
| Revenue Growth (Y-O-Y) | -6.62% | 1.64% | -1.23% | -0.91% |
| Earnings Reaction | -0.37% | -3.00% | 5.70% | 0.64% |
Yahoo has seen improving earnings and mixed revenue figures over the last four quarters. From these numbers, the markets have had mixed feelings about Yahoo's recent earnings announcements.
P = Excellent Relative Performance Versus Peers and Sector
How has Yahoo stock done relative to its peers, Google (NASDAQ:GOOG), AOL (NYSE:AOL), Microsoft (NASDAQ:MSFT), and the overall sector?
| | | | | | |
| --- | --- | --- | --- | --- | --- |
| | Yahoo | Google | AOL | Microsoft | Sector |
| Year-to-Date Return | 36.91% | 29.48% | 27.05% | 35.42% | 33.16% |
Yahoo has been a relative performance leader, year-to-date.
Conclusion
Yahoo is an Internet bellwether that provides a multitude of services to consumers and companies worldwide. There's no doubt that Marissa Mayer, the new CEO, has improved the image of the company through a new corporate culture and recent investments. The stock has been on a powerful surge towards higher prices, and is now trading at levels not seen since the mid-2000s. Over the last four quarters, investors have had mixed feelings about the company, as earnings have improved while revenue has remained mixed. Relative to its peers and sector, Yahoo has been a year-to-date performance leader. Look for Yahoo to OUTPERFORM.
Using a solid investing framework such as this can help improve your stock-picking skills. Don't waste another minute — click here and get our CHEAT SHEET stock picks now.