Will Your Retirement Savings Afford Basic Living Expenses?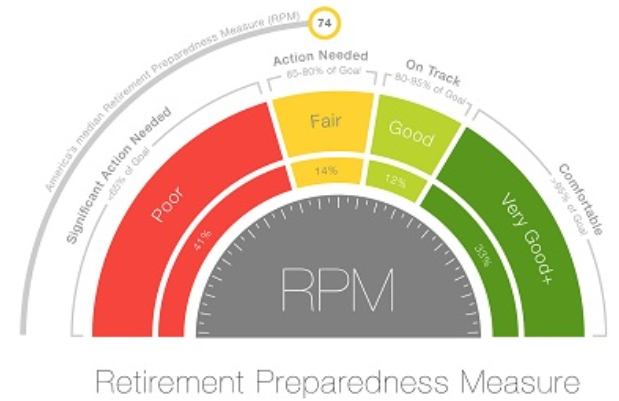 In spite of improvements in the stock market and household wealth over the past several years, many Americans are not on track to completely cover basic living expenses in retirement. Making matters worse, several factors may prevent Americans from increasing their retirement readiness.
More than half of Americans are at risk of not covering essential expenses in their so-called golden years. According to Fidelity's new Retirement Preparedness Measure, 55 percent of Americans are behind in retirement preparedness. In fact, the median score indicates working Americans are on track to meet just 74 percent of their estimated retirement expense goals and face a 26 percent income gap.
"While it's no secret our country faces a looming retirement challenge, the key to making progress is for Americans to know where they stand on the retirement spectrum, and more importantly, understand what can be done to improve their preparedness," said John Sweeney, executive vice president of Retirement and Investment Strategies at Fidelity. "Although it requires discipline and some tradeoffs, there are important steps people can take to accelerate their retirement savings and get closer to where they need to be in the long run, no matter what their age or income level."
Looking at retirement preparedness by generation, Baby Boomers are on track to reach 81 percent of their retirement goals, which is the highest rating among all generations in the analysis. Generation X respondents (born 1965-1977) are on track to reach 71 percent of their goals, while Generation Y (born 1978-1988) are the furtherest behind at only 62 percent. Generation Y is especially concerning since many anticipate an early retirement, despite not being able to rely on a pension.
Due to skyrocketing healthcare costs, weak labor market conditions, and stagnant wages, many Americans are simply not saving enough. The survey finds that 40 percent of respondents are saving less than 6 percent of their salaries, far below the generally recommended 10-15 percent.
"This savings shortfall is one of the biggest reasons the median RPM is in the yellow, although there are several others, too," said Sweeney. "When you factor in the expectations many have of an early retirement, along with increasing longevity and sometimes overly conservative asset mixes for investments, you can see why many people are not as prepared as they need to be to cover their expected expenses in retirement."
Don't Miss: 5 Reasonable Economic Predictions for 2014
Follow Eric on Twitter @Mr_Eric_WSCS