Williams-Sonoma Inc. Earnings: Margins Expand Again, Profit Rises
Williams-Sonoma Inc. (NYSE:WSM) reported its results for the first quarter. Williams-Sonoma, Inc. is a retailer of products for the home. The retail segment of its business sells products through five retail store concepts (Williams-Sonoma, Pottery Barn, Pottery Barn Kids, West Elm and Williams-Sonoma Home).
Don't Miss: Wall St. Cheat Sheet's newest Feature Trades of the Month!
Williams-Sonoma Earnings Cheat Sheet for the First Quarter
Results: Net income for Williams-Sonoma Inc. rose to $31.6 million (28 cents/share) vs. $19.5 million (18 cents/share) in the same quarter a year earlier. A rise of 61.8% from the year earlier quarter.
Revenue: Rose 7.4% to $771 million YoY.
Actual vs. Wall St. Expectations: WSM beat the mean analyst estimate of 28 cents/share. Estimates ranged from 26 cents per share to 33 cents per share.
Quoting Management: Laura Alber, President and Chief Executive Officer, commented, "The first quarter was a very strong quarter for the company. Net revenues increased 7%, and non-GAAP diluted earnings per share increased 30% to a record $0.30 per share. Comparable brand revenues increased 9%. An innovative merchandising strategy – supported by compelling price points, highly targeted 'multi-channel' marketing, and a superior customer experience – drove these better than expected results."
Key Stats: Last quarter marked the fifth consecutive quarter of gross margins expanding as the company's gross margin expanded 0.7 percentage point to 38.4% from the year earlier quarter. Over that span, margins have grown on average 4.1 percentage points per quarter on a year-over-year basis.
Revenue has risen the past four quarters. Revenue increased 9.7% to $1.2 billion in fourth quarter of the last fiscal year. The figure rose 11.8% in third quarter of the last fiscal year from the year earlier and climbed 15.4% in second quarter of the last fiscal year from the year-ago quarter.
Competitors to Watch: Bed Bath & Beyond Inc. (NASDAQ:BBBY), Pier one Imports, Inc. (NYSE:PIR), Kirkland's, Inc. (NASDAQ:KIRK), Cost Plus, Inc. (NASDAQ:CPWM), Haverty Furniture Companies, Inc. (NYSE:HVT), Italtile Limited (NYSE:ITE), Target (NYSE:TGT), Wal-Mart (NYSE:WMT), Sears Holdings (NASDAQ:SHLD), Home Depot (NYSE:HD), Lowe's (NYSE:LOW), Best Buy (NYSE:BBY) and Costco (NASDAQ:COST).
Stock Performance: Shares of WSM are down .46% this morning from the previous close of $43.26.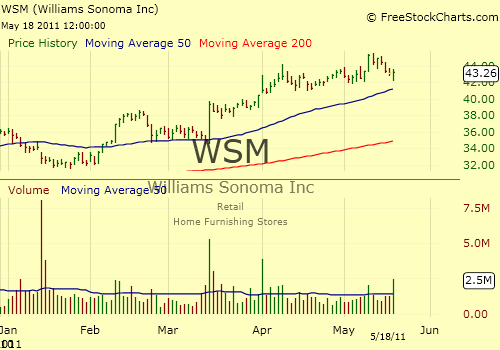 Don't Miss Wall St. Cheat Sheet's newest Feature Trades of the Month!