Wilmington Trust Corp Earnings Cheat Sheet: Loss Made Worse
Wilmington Trust Corporation (NASDAQ:WL) reported its results for the first quarter. Wilmington Trust Corporation provides a variety of deposit-taking, lending, fiduciary, trustee, financial planning, investment consulting, asset management, insurance, broker-dealer, and administrative services.
Don't Miss: Wall St. Cheat Sheet's newest Feature Trades of the Month!
Wilmington Earnings Cheat Sheet for the First Quarter
Results: Loss widened to $38.1 million (42 cents/diluted share) from $29.2 million (loss of 44 cents/share) in the same quarter a year earlier.
Revenue: Noninterest income was $102.5 million last quarter.
Quoting Management: Loan balances declined from year-end 2010 mainly because of charge-offs, paydowns, and weak demand for new loans. Loan balances at March 31, 2011, were $7.11 billion. Core deposit balances increased from year-end to $7.26 billion at March 31, 2011, mainly because of an increase in CCS deposits, while total deposits declined because of maturities of national brokered certificates. Because of our net loss for the 2011 first quarter, our stockholders' equity declined from year-end 2010. At the direction of our regulators, our Board of Directors did not declare a dividend on our common stock for the 2011 first quarter.
During 2010, because of our loan credit quality problems and the resulting net loss, erosion of capital, and adverse financial condition, management and the Board of Directors carefully studied the company's strategic options. In the process, we reviewed a wide range of alternatives. Based on discussions we had with our regulators, we believed that, without a change-of-control transaction acceptable to them, we likely would face imminent significant regulatory actions, which likely would result in a dramatic worsening of our business prospects.
Ultimately, the Board determined that the best option for our stockholders, as well as our clients and staff members, was a merger with M&T Bank Corporation. On November 1, 2010, we announced that we signed a definitive merger agreement with M&T. The closing of the merger is subject to certain conditions, including approval by our stockholders and regulators.
Our stockholders approved the merger on March 22, 2011 and we have obtained all necessary approvals to close the merger from our regulators. Subject to the terms and conditions of the merger agreement, we expect to close the merger on May 16, 2011, at which point we will become a wholly-owned subsidiary of MT&T.
Competitors to Watch: M&T Bank Corporation (NYSE:MTB), WSFS Financial Corporation (NASDAQ:WSFS), Shore Bancshares, Inc. (NASDAQ:SHBI), Wells Fargo & Company (NYSE:WFC), JPMorgan (NYSE:JPM), Standard Financial Corp. (NASDAQ:STND), Republic Bancorp, Inc. KY (NASDAQ:RBCAA), PNC Financial Services (NYSE:PNC), Northwest Bancshares, Inc. (NASDAQ:NWBI), Northern Trust Corporation (NASDAQ:NTRS), and TrustCo Bank Corp NY (NASDAQ:TRST).
Stock Performance: Shares of WL are down 0.4% from the previous close.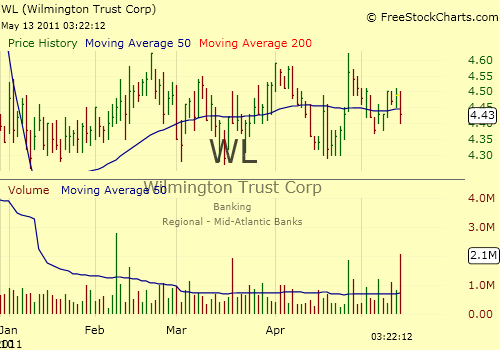 Don't Miss Wall St. Cheat Sheet's newest Feature Trades of the Month!