Windstream Corporation Earnings: Net Income Fell for Second Straight Quarter
S&P 500 (NYSE:SPY) component Windstream Corporation (NASDAQ:WIN) reported a lower net income in first quarter, missing analysts' estimates. Windstream Corporation is a customer-focused broadband and telecommunications company that provides phone, Internet, complex data, and voice and transport services. It reaches customers in 29 states and offers its services primarily in rural areas in the United States.
Don't Miss: Wall St. Cheat Sheet's newest Feature Trades of the Month!
Windstream Earnings Cheat Sheet for the First Quarter
Results: Net income for Windstream Corporation fell to $23.5 million (5 cents/share) vs. $74.1 million (17 cents/share) a year earlier. A decline of 68.3% from the year earlier quarter.
Revenue: Rose 20.3% to $1.02 billion YoY.
Actual vs. Wall St. Expectations: WIN fell short of the mean analyst estimate of 19 cents/share. Estimates ranged from 16 cents per share to 23 cents per share.
Quoting Management: "I am very pleased with our performance in the first quarter and our solid start to 2011," said Jeff Gardner, president and chief executive officer of Windstream. "We delivered strong operating metrics on all fronts and we continued to show improvement in year-over-year revenue trends. We expect our year-over-year financial performance to improve throughout 2011 as a result of the investments we are making in our network and the additional synergies we will realize."
Key Stats:
The company has enjoyed double-digit year-over-year revenue growth for the past five quarters. Over that span, the company has averaged growth of 23.2%, with the biggest boost coming in the third quarter of the last fiscal year when revenue rose 31.5% from the year earlier quarter.
The company has now seen net income fall in each of the last two quarters. In the fourth quarter of the last fiscal year, net income fell 4.1% from the year earlier quarter.
Competitors to Watch: Consolidated Communications Hldgs. Inc (NASDAQ:CNSL), PAETEC Holding Corp. (NASDAQ:PAET), Xfone, Inc. (AMEX:XFN), Frontier Communications Corp (NYSE:FTR), Verizon Communications Inc. (NYSE:VZ), Cincinnati Bell Inc. (NYSE:CBB), 8×8, Inc. (NASDAQ:EGHT), CenturyLink, Inc. (NYSE:CTL), AT&T Inc. (NYSE:T), and Sprint (NYSE:S).
Stock Performance: Shares of WIN are trading down 1.97%.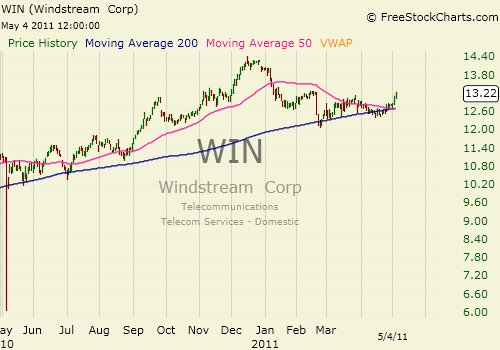 Don't Miss Wall St. Cheat Sheet's newest Feature Trades of the Month!