Without Higher Employment, Consumer Credit Won't Increase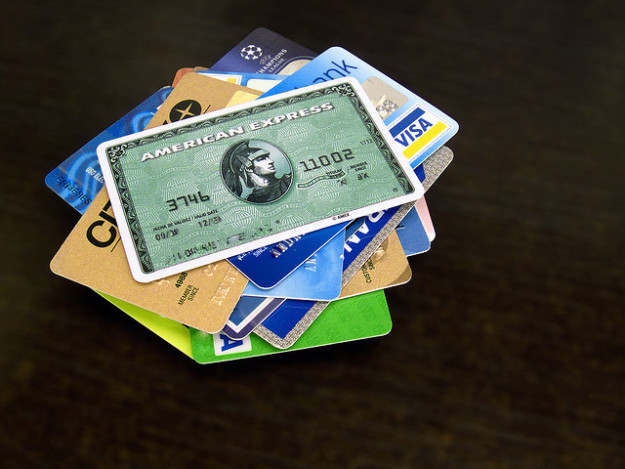 High stock market gains and soaring property values have put households in a better position to take advantage of low interest rates to purchase big ticket items such as cars. But Americans have also been forced to contend with higher payroll taxes and stagnating income growth, and as a result credit-card use has increased. With these two factors driving consumer spending — a category that makes up 70 percent of economic activity in the United States — borrowing in the U.S. accelerated in the month of April as Americans took out more education and automobile loans.
Consumer credit — a measure of lending that excludes home mortgages — increased by $11.1 billion, following an upwardly revised $8.37 billion jump the previous month. However, the results did fall below the median forecast of economists surveyed by Bloomberg, which called for a $12.9 billion gain in April.
"A lot of what is driving consumer credit right now is non-revolving credit," Jefferies economist Tom Simons told the publication before the report was released. "The unemployment rate is going to have to fall and earnings are going to have to go up before people are comfortable spending more than they make."
But, while the Department of Labor's Employment Situation Report showed a better-than-expected gain of 175,000 jobs, the unemployment rate did not drop. In fact, because the labor force swelled to 420,000, the unemployment rate jumped back up to 7.6 percent. Even more concerning was the fact that the report showed wages are not picking up. Average hourly earnings changed little between the $23.88 reported in April and the $23.89 reported in May.
Non-revolving debt, which includes loans taken out for college tuition and the purchase of vehicles rose, rose $10.4 billion, accounting for the majority of the gains. For most of this year, automobile demand has been a bright spot for the economy; cars and light trucks sold an average 15.26 million annualized rate in the first quarter, the strongest results since the same period in 2008. Still, credit-card borrowing still remains below the peak of $1.028 trillion hit in July 2008.
In April, revolving debt, which includes credit cards, increased by $682.3 million, after decreasing $906.4 million the previous month. As this movement would suggest, consumer spending tapered off in April, declining 0.2 percent, according to the Department of Commerce.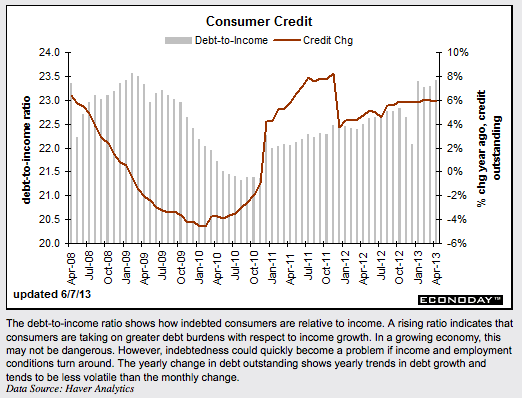 Follow Meghan on Twitter @MFoley_WSCS
Don't Miss: Wal-Mart Mess: Can the Corporate Claw Reign in Bad Behavior?