Wondering Why Unemployment Is Still So High? Blame the Baby Boomers
Unemployment, while somewhat improved, is still too high. One culprit is the huge baby boom generation, which is reluctant to retire.
Each day, another 8,000 baby boomers turn 65. The U.S. Census Bureau says there are more than 77 million baby boomers, defined as those born between 1946 and 1964.  By 2030, all boomers will be over 65 and will represent about 20 percent of the population.
So, given the growing number of boomers who have reached retirement age, why is the unemployment rate still so high?
Based on the official U-3 statistics, unemployment is at 6.1 percent.  That's much better than the 10 percent rate we had in 2009, but it's considerably higher than the 3.9 percent rate the U.S. enjoyed in 2000 – which was long before baby boomers even thought about retirement.
If Americans are retiring at 65, that should open up more than a quarter million new jobs per month – on top of job growth caused by economic recovery.  Thus, when the Bureau of Labor Statistics reports that 205,000 jobs were created in July 2014, it's not exactly a sign of prosperity.
The U-6 unemployment rate, which includes those who have given up looking for work, is still 12 percent, which is practically European.
Let's examine why is the unemployment rate still is stubbornly high.
Baby boomers are still working
For one thing, many baby boomers aren't retiring at age 65. In fact, those over 65 now represent 5.4 percent of the workforce, which is a record, as the chart below shows.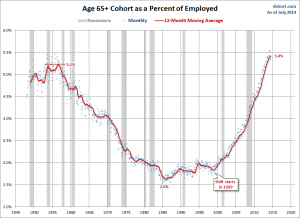 Boomers aren't retiring for many reasons. Life expectancy is longer than ever, and allegedly boomers are an industrious lot and love their jobs. But the main reason appears to be that boomers haven't saved enough for retirement.
According to the Employee Benefits Research Institute (EBRI), 36 percent of workers have less than $1,000 in savings, up from 28 percent in 2013.
Given last year's strong stock market performance, the EBRI found that the percentage of workers feeling very confident about their ability to retire increased to 18 percent from just 13 percent in 2013. Yet that means 82 percent of those employed lack that confidence. And the percentage will increase if the stock market performs poorly.
The EBRI also found that the median employee in the top 10 percent of wealth has about $200,000 saved for retirement, compared with $22,000 for a middle class employee. Plus, EBRI discovered that only 64 percent of workers between the age of 55 and 64 have saved an amount equal to one year of income.
If you're among those who saved "about $200,000," congratulations. But recognize that retirement is likely to last about 20 years – and dividing $200,000 into 20 gives you an average of $10,000 a year.
Regulators are working overtime
Another reason unemployment is still high is that increased regulation really does have an impact on employment.
As we previously noted, the Federal Register grew by a record 26,417 pages in 2013.  The Wall Street Journal reported that, "Congress may be mired in gridlock, but the federal bureaucracy is busier than ever. In 2013, the Federal Register contained 3,659 'final' rules, which means they now must be obeyed, and 2,594 proposed rules on their way to becoming orders from political headquarters."
Regulations have an impact on job growth and productivity. They also raise the cost of production, which leads to higher prices and reduced output. The Competitive Enterprise Institute's Wayne Crews estimates that regulatory compliance has an economic impact of $1.9 trillion a year.
The economy isn't recovering
It's practically accepted as a given that the economy is recovering – but is it?  Practically every economic indicator flat-lined over the summer. Retail sales continued to disappoint; mortgage applications refused to bounce back much from historic lows; and geopolitical drama was at a new high.
Investors had previously piled into junk bonds in search of higher yields, but the market experienced a 6-sigma event (meaning seemingly rare) in early August, with $7.1 billion in withdrawals in a week from high-yield funds. The trend continues. The last time the junk bond market imploded like that was heading into the financial crash of 2008.
Home ownership in the U.S. is at its lowest level since 1995 and layoffs in the technology industry are 68 percent ahead of last year's pace.
Factor in conflict in Ukraine, Iraq, Gaza, Libya, Nigeria, Ferguson and other parts of the world, as well as the continuing meltdown of the European economy, and the prognosis for reduced unemployment isn't good. At least we don't have an Ebola epidemic.
Note to baby boomers: Keep working.
Follow AdviceIQ on Twitter at @adviceiq.
Written by Brenda P. Wenning, president of Wenning Investments LLC in Newton, Mass. 
AdviceIQ delivers quality personal finance articles by both financial advisors and AdviceIQ editors. It ranks advisors in your area by specialty, including small businesses, doctors and clients of modest means, for example. Those with the biggest number of clients in a given specialty rank the highest. AdviceIQ also vets ranked advisors so only those with pristine regulatory histories can participate. AdviceIQ was launched Jan. 9, 2012, by veteran Wall Street executives, editors and technologists. Right now, investors may see many advisor rankings, although in some areas only a few are ranked. Check back often as thousands of advisors are undergoing AdviceIQ screening. New advisors appear in rankings daily.