Woodward Earnings: Market Share Continues to Grow
Woodward, Inc. (NASDAQ:WWD) reported net income above Wall Street's expectations for the second quarter. Woodward Inc. designs, manufactures, and services energy control systems and components for aircraft and industrial engines and turbines.
Don't Miss: Wall St. Cheat Sheet's newest Feature Trades of the Month!
Woodward Earnings Cheat Sheet for the Second Quarter
Results: Net income for Woodward, Inc. rose to $32.1 million (46 cents/share) vs. $24.1 million (34 cents/share) in the same quarter a year earlier. A rise of 33.3% from the year earlier quarter.
Revenue: Rose 19.9% to $418.9 million YoY.
Actual vs. Wall St. Expectations: WWD beat the mean analyst estimate of 42 cents/share. Estimates ranged from 42 cents per share to 43 cents per share.
Quoting Management: "Woodward experienced continued market share growth in the second quarter as demand for our control systems increased and the economic recovery continued," said Thomas A. Gendron, Chairman and Chief Executive Officer. "Our sustained focus on product development and operational improvements should allow us to better meet increasing customer demands."
Key Stats:
The company has now seen net income rise in three-straight quarters. In the first quarter, net income rose 0.2% and in the fourth quarter of the last fiscal year, the figure rose 37.2%.
Gross margins grew 0.1 percentage point to 30.2%. The growth seemed to be driven by increased revenue, as the figure rose 19.9% from the year earlier quarter while costs rose 19.7%.
Over the last five quarters, revenue has increased 7.4% on average year over year. The biggest increase came in the most recent quarter, when revenue rose 19.9% from the year earlier quarter.
Competitors to Watch: Parker-Hannifin Corp. (NYSE:PH), General Electric Company (NYSE:GE), United Technologies Corp. (NYSE:UTX), Honeywell Intl. Inc. (NYSE:HON), Broadwind Energy Inc. (NASDAQ:BWEN), Capstone Turbine Corp. (NASDAQ:CPST), Ocean Power Tech., Inc. (NASDAQ:OPTT), Goodrich Corporation (NYSE:GR), Generac Holdings Inc. (NYSE:GNRC), and WindGen Energy Inc. (WGEI).
Today's Performance: Shares of WWD are up 0.28% to $34.06 per share as of Monday April 25 at 4:15 PM ET.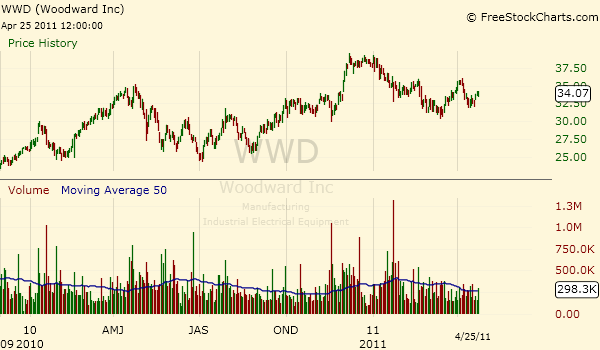 Don't Miss Wall St. Cheat Sheet's newest Feature Trades of the Month!