World Bank Cuts Growth Across the Board
Despite a rebound in financial markets since the depths of the credit crisis four years ago, economies around the world are still in dire need of growth.
According to the World Bank's latest Global Economic Prospects report, the global economy remains fragile, as high-income countries continue to experience slow growth and volatility. As a result, the organization cut its forecast for global gross domestic product across the board.
The following revisions from June estimates are listed below:
2.3 percent global GDP for 2012 (down from 2.5 percent)
2.4 percent global GDP for 2013 (down from 3.0 percent)
3.1 percent global GDP for 2014 (down from 3.3 percent)
3.3 percent global GDP for 2015 (unchanged)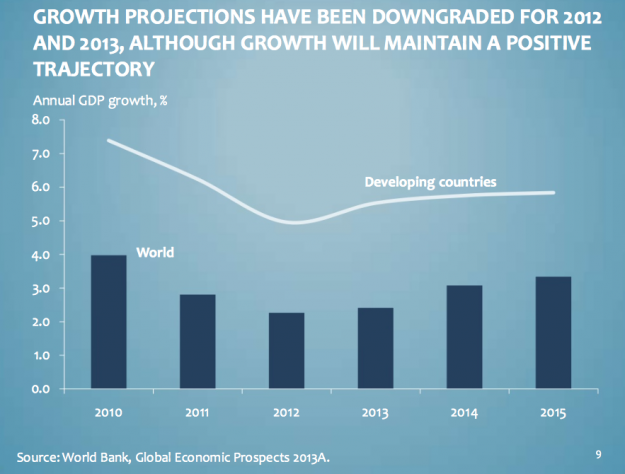 Last year, developing countries logged their slowest growth rates of the past decade, with GDP estimated to have increased only 5.1 percent. Growth is expected to increase slightly to 5.5 percent this year, and 5.7 percent in 2014. Previously, the World Bank expected almost 6.0 percent growth in 2013.
Start 2013 better than ever by saving time and making money with your Limited Time Offer for our highly-acclaimed Stock Picker Newsletter. Click here for our fresh Feature Stock Pick now!
Growth in high-income countries also remains poor, with GDP increasing only 1.3 percent last year. In 2013, advanced economies are expected to grow 1.3 percent, and eventually hit 2 percent and 2.3 percent in 2014 and 2015, respectively.
A host of problems could reduce growth rates once again…
The report states, "While diminished, downside risks to the global economy persist and include a stalling of progress on the Euro Area crisis, debt and fiscal issues in the United States, the possibility of a sharp slowing of investment in China, and a disruption in global oil supplies. In this weak external environment, growth for developing countries will need to come from within, by strengthening governance and investing in infrastructure, education, and health care."
The World Bank estimates that GDP growth in Europe and Central Asia dropped sharply to 3 percent in 2012, compared to 5.5 percent in 2011.
However, as the chart above shows, default risk rates have declined from their highs with the massive aid of central banks. The reduced outlook on global growth is yet another reminder that major central banks around the world will not remove the lifeline anytime soon.
Investor Insight: U.S. Debt Ceiling: Platinum and Gold Are Not the Answer