Would Ford's CEO Take Microsoft's Top Job?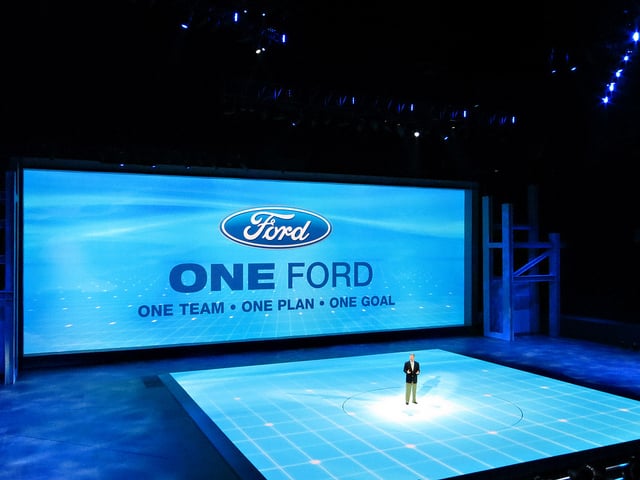 At a glance, the idea of Ford (NYSE:F) chief executive Alan Mulally succeeding Steve Ballmer at Microsoft (NASDAQ:MSFT) makes perfect sense. Mulally, mastermind of the turnarounds at Ford and Boeing (NYSE:BA), would simply step into his next Herculean task and rejuvenate the tech giant with his patented touch. However, a struggling software maker in a changing tech universe is far different from a struggling automaker in a country that loves cars. There are three questions to ask when considering Mulally to Microsoft.
1. Is Mulally Available for the Job? 
By all accounts, Mulally isn't going to leave Ford until he considers his work there done. However, that date may not be far off. Ford has mentioned it sees Mulally staying at the helm until the end of 2014 (at least), though viable candidates have emerged in the automaker's corporate ranks. The stability and ever-improving health of Ford could suggest Mulally's work is done after all.
Logic would follow that Ford has little to lose by letting go of a chief executive who believes the automaker's turnaround is complete. According to a report by Reuters, that sentiment has led Ford's board of directors to consider allowing Mulally to step down before the expected date. Their only concern would be whether Mulally's successor could hold the same sway and be able to keep the massive corporation in running as smoothly as it has been.
2. Is the Microsoft Turnaround Tougher? 
Financially speaking, there's no comparison between turning around Microsoft and turning around Ford. The automaker was in a such a perilous place when Mulally became chief executive that there was little, if any, margin for error. Microsoft would present challenges Mulally didn't have to face at either Boeing or For:, the future of technology, the most daunting challenge of all.
What is the future of technology as trends continue to shift so rapidly and traditional PCs veer toward obsolescence? This question is impossible to answer, but it requires a finger on the pulse of every new development in Microsoft's industries. Whether a 68-year-old executive with a background in manufacturing can navigate these murky waters would be the challenge Mulally faces. Many consider him up for it.
In fact, it's the outsider status that could be the most appealing prospect of a Mulally-led Microsoft. Critics of the software and tech giant have said it lacks leadership and direction. Should Microsoft need a strong hand to push the company toward becoming a cohesive unit, Mulally would be a wise pick. His future staff could surely catch him up to speed on the developments in technology.
3. Does Alan Mulally Already Run Microsoft?
It's helpful to note how much influence Mulally already has at Microsoft. Earlier in 2013, AllThingsD reported Mulally attended an executive retreat for Microsoft's leaders and shared with Ballmer and others the recipe for Ford's transformation. The biggest piece of advice had an ultra-familiar ring to it.
Mulally told Ballmer and other leaders of Microsoft that it's about "everyone working together, with an organizational structure and operations absolutely focused on delivering the plan," he wrote to AllThingsD. Ballmer was soon telling his company about a "One Microsoft" strategy that mirrored Mulally's One Ford initiative.
The Ford chief executive insisted he had no direct impact on Microsoft's internal operations, but it's safe to say he got inside the company on a level no other contender for the job has. Were Alan Mulally to take the helm of Microsoft, he could hit the ground running.
Don't Miss: Ford and Chevy Raise the Stakes in the Heavy-Duty Game