Would Romney Smack Down Online Gambling?
Mitt Romney does not appear to be opposed to gambling at first glance; he challenged Rick Perry to a  $10,000 bet during the Republican primary debate regarding his stance on health-care while governor of Massachusetts. However, given the fact that he has said he wants to make the Internet "family-friendly," many industry experts believe he opposes allowing online gambling for cash.
Nevertheless, the possibility of an Internet gambling bill has gained momentum, and an early version of the bill has been drafted by Senate Majority Leader Harry Reid and Arizona Republican Senator Jon Kyl.
Catalysts are critical to discovering winning stocks. Check out our newest CHEAT SHEET stock picks now.
The Justice Department has made several moves that show there is a potential future for online gambling. In late July, the United States Attorney for the Southern District of New York announced a settlement that would allow poker players in the United States to recover millions of dollars in winnings that were frozen after the Department of Justice cracked down on three online poker sites in April 2011. While the DOJ has yet to return the funds, Forbes reported in August that such a settlement indicates that Internet gambling legalization is at hand; the Justice Department could have banned the involved websites from the country, but it did not. Furthermore, last September the Department reinterpreted the application of the 1961 Interstate Wire Act to apply only to sports wagering, slightly changing the legality of gambling across state lines.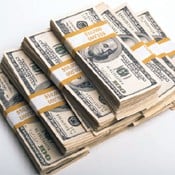 While yet to be finalized and formally introduced, Reid, Kyl, and Nevada Republican Senator Dean Heller have begun drafting a bill that would legalize poker over the Internet. However problems with the bill are abundant, and Heller now believes the bill should pass the House of Representatives before going before the Senate.
Bloomberg reported that executives of both the MGM Resorts (NYSE:MGM) and the Las Vegas Sands (NYSE:LVS) agreed earlier in the month that "Internet gambling is inevitable and that U.S. companies and customers are vulnerable to overseas Internet poker operations." However, while at a panel discussion at the Global Gaming Expo, Las Vegas Sands CEO Michael Levon said company magnate Sheldon Adelson, a Romney donor, had doubts as to the profitability of online gaming. In contrast, MCM chief executive Jim Murren said that the federal government should adopt regulations to protect consumers.
But as the Las Vegas Review-Journal reported in a recent article, "A legalized market for Internet poker in which most states would be expected to participate would mean millions of dollars in business for casinos that are positioning themselves for what they see as the next big thing."
In contrast, the American Gaming Association has kept its position on the $36 billion-a-year casino industry simple. "The entire gaming industry is anxious to see more clarity on the legality of online gambling," said AGA Chief Executive Officer Frank Fahrenkopf in a statement made in October.
With opinions regarding the potential online poker bill so divided and the election mere weeks away, lobbyist, regulators, and members of Congress, and those in the industry have begun to wonder how a Romney victory would affect the future of the bill and Internet gambling.
Don't Miss: Should This Stock be in Your Portfolio After Its Latest Report?