Wyndham Board Authorizes Dividend Increase and 3 Hot Stocks Moving Now
Goodrich Petroleum Corp. (NYSE:GDP): Current price $12.74
Goodrich Petroleum Corp. announced the completion of their Crosby 12H-1 well in Wilkinson County, Mississippi. The well is continuing to improve with a current production rate of 1,250 barrels of oil equivalent per day and a 24 hour average rate of 1,130 barrel of oil equivalent, per day comprised of 1,050 barrels of oil and 469 Mcf of gas, on a 15/64″ choke with 2,700 psi. The company currently has approximately 135,000 net acres in the play and now expects to spend the higher end of its previously announced 2013 capital expenditure budget in the TMS of approximately $50 million.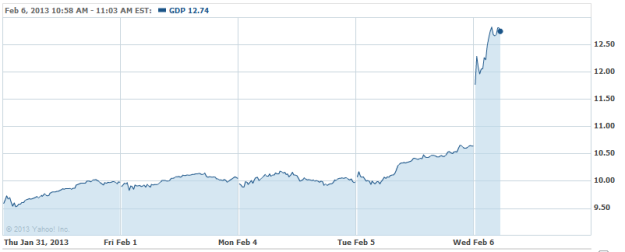 Cummins Inc. (NYSE:CMI): Current price $115.20
Cummins Inc. has Reported a fourth quarter revenue $4.3 billion with a consensus $4.04 billion. Results included restructuring costs of 19c per diluted share and one-time tax benefits of 21c per diluted share.

Time Warner Inc. (NYSE:TWX): Current price $52.45
From January 1, 2012 through February 1, 2013, Time Warner Inc. repurchased approximately 84 million shares of common stock for approximately $3.5 billion. These amounts reflect the purchase of approximately 24 million shares of common stock for approximately $1.1 billion, since the amounts reported in the Company's third quarter earnings release issued on November 7, 2012. In January 2013, the Company's Board of Directors authorized a total of $4 billion in share repurchases, beginning January 1, 2013, which replaced the amount remaining under the prior authorization.

Wyndham Worldwide Corporation (NYSE:WYN): Current price $59.35
Wyndham Worldwide Corporation's board authorized an increase in the quarterly cash dividend from 23c to 29c per share, beginning with the dividend that is expected to be declared during the first quarter.

Don't Miss: Was Today The Most Miserable Day in RBS History?