Xilinx Earnings: Programmed Higher Profits
S&P 500 (NYSE:SPY) component Xilinx, Inc. (NASDAQ:XLNX) reported a profit boost in the fourth quarter. Xilinx, Inc. designs, develops and markets programmable platforms and predefined system functions delivered as intellectual property cores.
Don't Miss: Wall St. Cheat Sheet's newest Feature Trades of the Month!
Xilinx Earnings Cheat Sheet for the Fourth Quarter
Results: Net income for the semiconductor company rose to $160.1 million (59 cents/share) vs. $148.5 million (54 cents/share) in the same quarter a year earlier. A rise of 7.8% from the year earlier quarter.
Actual vs. Wall St. Expectations: Estimates, which often factor in adjustments, ranged from 49 cents/share to 55 cents/share with a mean of 52 cents/share.
Revenue: Rose 11% to $587.9 million YoY.
Quoting Management: "I am very pleased with our fiscal 2011 results. Record sales and continued fiscal discipline contributed to significant improvements in our profitability," said Moshe Gavrielov, Xilinx President and Chief Executive Officer. "In fiscal 2012, we will continue to demonstrate clear 28-nm technology leadership with our game changing product strategy."
Key Stats:
The company has now seen net income rise in three-straight quarters. In the third quarter, net income rose 42.5% and in the second quarter, the figure rose more than twofold.
Competitors to Watch: Altera Corporation (NASDAQ:ALTR), Lattice Semiconductor (NASDAQ:LSCC), QuickLogic Corporation (NASDAQ:QUIK), Cypress Semicond. Corp. (NASDAQ:CY), Microsemi Corporation (NASDAQ:MSCC), Atmel Corporation (NASDAQ:ATML), ON Semiconductor Corp. (NASDAQ:ONNN), Sajan, Inc. (SAJA), Texas Instruments Inc. (NYSE:TXN), and TranSwitch Corporation (NASDAQ:TXCC).
Today's Performance: Shares of XLNX are up 1.6% in after hours trading.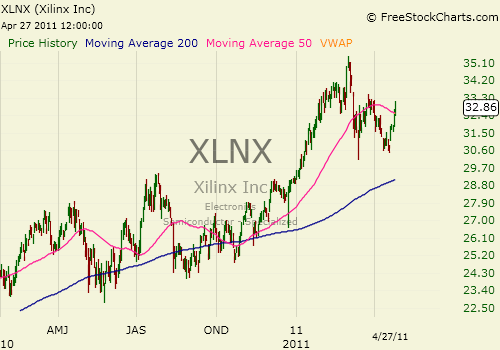 Don't Miss Wall St. Cheat Sheet's newest Feature Trades of the Month!