Yahoo! Builds Up Nebraska Customer Care Team and 2 More Heavily Traded Stocks to Follow
Yahoo! (NASDAQ:YHOO): Current price $25.47
Yahoo! announced Thursday it is increasing its team in La Vista, Nebraska, thereby creating around 100 new jobs across customer care, integration, and logistics. Chief Marketing Officer Kathy Savitt said that "Yahoo! is focused on building a world-class customer care team to set  new standards for excellence across the globe. Over the past three  years, we've been impressed with the high quality workforce in Nebraska, and we look forward to adding more Nebraskans to our Yahoo! team to help  make the daily habits of our hundreds of millions of users more  inspiring and entertaining."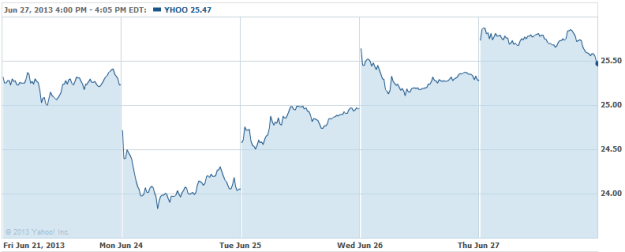 Intel Corporation (NASDAQ:INTC): Current price $24.05
In a Thursday research report, analyst Mark Sue at RBC Capital wrote that coming Intel processors are likely to become popular in mobile devices and should more than outweigh a decline in notebook chip sales. Sue also commented that the enhanced performance and power dynamics of new versions of Intel's Atom line of processors should assist it in growing its market share in the mobile market, citing the recent win with Samsung, which employs Intel's Clover Trail chip in a version of its Galaxy Tab 3, as reported by IBD. Presently, RBC expects that sales of Atom chips in the mobile category could jump to $3.7 billion by 2016, from a mere $380 million in 2013. Meanwhile, Intel intends to ship a newer version of its Atom processor, the Silvermont, later this year, and then follow that by Airmont  in 2014.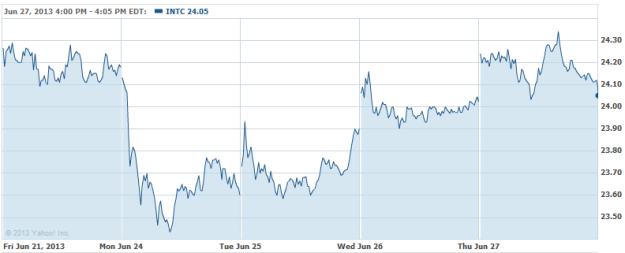 Huntington Bancshares Incorporated (NASDAQ: HBAN): Current price $7.88
Huntington Bank and Cleveland State University have formed an exclusive 10-year accord that provides over $1 million for scholarships and academic programming via an expanded banking program that Huntington will offer as "The Official Bank of Cleveland State University." On Thursday, University President Ronald M. Berkman and Huntington Bank Greater Cleveland Region President Dan Walsh announced creation of the partnership at a press conference at the inauguration of Huntington's new full-service branch in the university's Main Classroom building.