Yahoo! Cooperates With Sedo to Auction 100+ Domain Names and 2 More Heavily Traded Stocks to Follow
Yahoo! Inc. (NASDAQ:YHOO): Current price $35.10
On Wednesday, Sedo said that it is partnering with Yahoo to auction over 100 premium domain names. The auction will take place November 14 through 21, and dedicated specifically to Yahoo's domain portfolio, offering an opportunity for businesses, individuals, and domain investors to buy addresses owned by the firm. Certain of the domains up for sale include sandwich.com, crackers.com, and policescanner.com.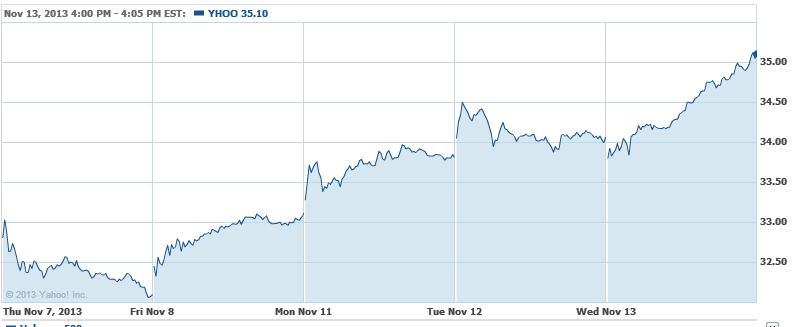 Nokia Corp. (NYSE:NOK): Current price $7.93
Nokia Solutions and Networks Chief Executive Rajeev Suri has said that Nokia's telecoms equipment arm, NSN, is centering its efforts upon expanding sales, following years of concentrating on cost reduction and ridding itself of unprofitable contracts to improve margins. Suri also said that he considered a top candidate to lead the Finnish company after it divests its handset business to Microsoft, but did not rule out purchases to expand the business. In an interview on Wednesday, he observed that, "It would be unwise for us not to scan the market and see what's available. Of course we'll do that."

Hertz Global Holdings Inc. (NYSE:HTZ): Current price $23.39
Hertz Global announced Wednesday that its wholly-owned subsidiary Hertz Holdings Netherlands B.V., which is a private firm with limited liability incorporated under the laws of The Netherlands, will sell 425 million euros aggregate principal amount of its 4.375 percent senior notes due 2019, in a private offering exempt from the registration requirements of the Securities Act of 1933, as amended. The offering should close on or about November 20, subject to the usual closing conditions.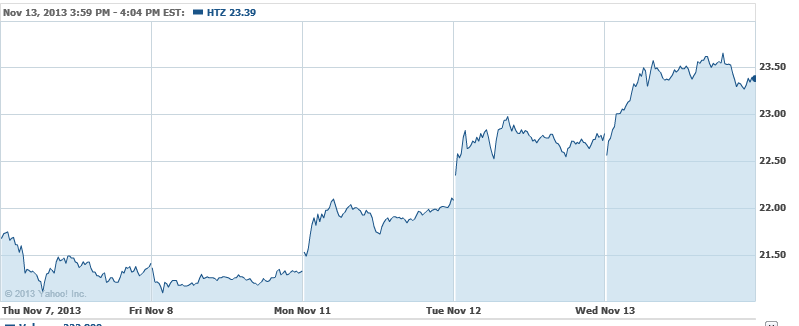 Investing Insights: Can Vodafone Continue to Outperform?