Yahoo! Earnings Cheat Sheet: Shares Up 3% After Hours
S&P 500 (NYSE:SPY) component Yahoo! Inc. (NASDAQ:YHOO) saw profit fall amid falling revenue. Yahoo, Inc., is focused on powering its communities of users, advertisers, publishers and developers by creating indispensable experiences built on trust.
Don't Miss: Wall St. Cheat Sheet's newest Feature Trades of the Month>>
Yahoo Earnings Cheat Sheet for the First Quarter
Results: Net income for Yahoo! Inc. fell to $224.8 million (17 cents/share) vs. $310.2 million (22 cents/share) a year earlier. A decline of 27.5% from the year earlier quarter.
Revenue: Fell 24% to $1.21 billion YoY.
Actual vs. Wall St. Expectations: YHOO (NASDAQ:YHOO) beat the mean analyst estimate of 16 cents/share. Estimates ranged from 14 cents per share to 18 cents per share.
Quoting Management: "We are solidly executing toward our plan for returning Yahoo! to sustainable revenue and profit growth," said Carol Bartz, CEO of Yahoo!. "During the quarter, we beat the midpoint of revenue guidance while continuing to deliver on the bottom line. We continued to extend our lead as the world's premier digital media company with users to Yahoo! branded properties increasing 15% year over year and minutes spend increasing 17%."
Key Stats: Last quarter's profit decrease breaks a streak of four consecutive quarters of year-over-year profit increases. In the fourth quarter of the last fiscal year, net income rose 104% from the year earlier while the figure increased 112.9% in third quarter of the last fiscal year, 50.9% four quarters ago and 163.9% five quarters earlier.
Over the last five quarters, revenue has fallen an average of 6.3% year over year. The biggest drop came in the most recent quarter, when revenue fell 24% from the year earlier quarter.
Competitors to Watch: AOL, Inc. (NYSE:AOL), Microsoft (NASDAQ:MSFT), InterActive Corp (NASDAQ:IACI), Sohu.com (NASDAQ:SOHU), Demand Media (DMD), Sina Corp (NASDAQ:SINA), Infospace (NASDAQ:INSP), News Corp (NASDAQ:NWSA) and Google Inc. (NASDAQ:GOOG).
Today's Performance: Shares of YHOO are up 3% in after hours trading.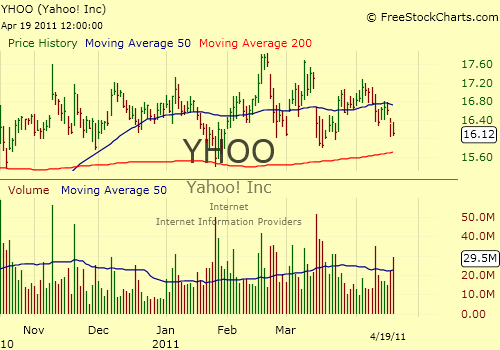 Don't Miss Wall St. Cheat Sheet's newest Feature Trades of the Month!