Yahoo! Japan Recruits Ex-Goldman Sachs Exec and 2 Other Hot Stocks to Watch
Yahoo! Inc. (NASDAQ:YHOO): Current price $28.26
The operator of Japan's most-visited Web portal, Yahoo Japan Corp., announced that it has recruited Ryu Hirayama, who is an ex-Goldman Sachs Group vice president. Hirayama served as vice president of investment banking at Goldman Sachs and has now joined Yahoo! Japan as of August 1, but the firm has yet to decide on his position, according to spokeswoman Junji Miyahara. A knowledgeable source said that Hirayama advised on mergers and acquisitions while at Goldman. Yahoo! Japan's number-one shareholder is the billionaire Masayoshi Son's SoftBank Corp. and has announced a minimum of eight mergers and acquisitions worth about $670 million since April of last year, said data compiled by Bloomberg.

Ford Motor Co. (NYSE:F): Current price $17.10
Ford has decided that it wants its Lincoln brand to appeal to younger, more discriminating buyers, and to that effect, it has unveiled the sleek MKZ sedan with six additional models to follow. The company has purged underperforming dealerships and is pressing the ones left to make costly updates. Now, Lincoln is instructing its dealers on how to appeal to the "$4 latte crowd." What is more, this summer, Ford brought 60 Lincoln salespeople to a boutique hotel in Chicago to learn about what the so-called "progressive luxury" buyer likes and dislikes, marking the third of five regional trainings sessions.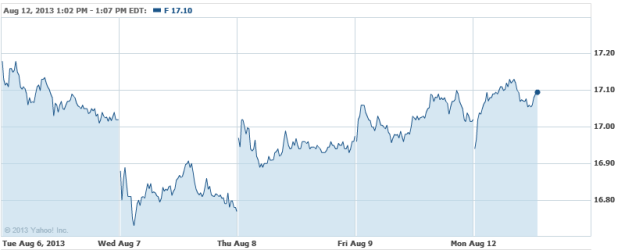 Barrick Gold Corp. (NYSE:ABX): Current price $18.32
According to optionMONSTER, Barrick has shown signs of a possible rebound of late, after falling sharply for months, and short-term traders are looking for more wins. In excess of 3,000 August 17.50 calls traded in a strong buying pattern as premiums jumped from 18 to 56 cents on Friday, said optionMONSTER's Heat Seeker system. In addition, the volume was well above the strike's open interest of only 727 contracts prior to the trades appearing, implying that these are new positions.

Don't Miss: Is the FCC Finally Ready to Step Into the Time Warner-CBS Cage Fight?