Yahoo! Pays Big Bucks For Tumblr and 2 Other Hot Stocks to Watch
Yahoo! (NASDAQ:YHOO): Current price $26.83
In its most expensive acquisition in more than a decade, Yahoo is shelling out $1.1 billion for the online blogging forum Tumblr. The purchase, announced on Monday, marks Chief Executive Marissa Mayer's boldest move thus far at the helm of Yahoo's comeback. The company is paying all in cash for Tumblr, funding the transaction from the $7.6 billion windfall from 2012′s sale of around one-half of its interest in the Chinese Internet company Alibaba Holdings Group.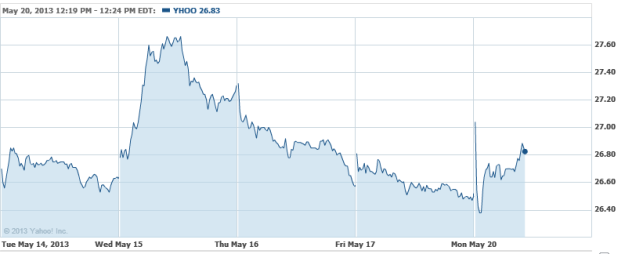 Warner Chilcott (NASDAQ:WCRX): Current price $19.77
The specialty pharmaceuticals firm Actavis has acquired Dublin's Warner Chilcott in an all-stock transaction for roughly $5 billion, prior to the assumption of $3.5 billion in debt, that takes the total valuation to $8.5 billion. The parties said that the union will form the third-biggest specialty pharma company in the United States. Actavis says that the expansion of its portfolio in women's health and urology, alongside a move into gastroenterology and dermatology, and that the transaction should begin boosting the bottom line in a relatively short time.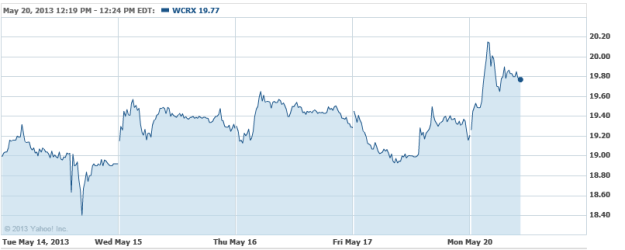 Websense (NASDAQ:WBSN): Current price $24.72
The former U.S. Securities and Exchange Commission attorney Willie Briscoe and the securities litigation firm of Powers Taylor are looking into the sale of Websense to Vista Equity Partners for its shareholders. Though the terms of the proposed sale at roughly $906 million, Websense shareholders will receive $24.75 for each share of Websense stock they hold. The investigation is focused on whether Websense's shareholders are getting adequate compensation for their shares, whether the transaction undervalues Websense stock, and also whether if the board attempted to obtain the highest share price for all shareholders before signing on to the deal. Briscoe commented that, "Due to the size of the deal, the lack of a significant premium and other factors, we believe this transaction may undervalue Websense's stock. Our proposed lawsuit will seek to obtain the highest share price for all shareholders."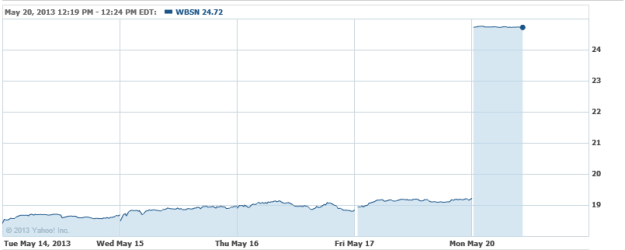 Don't Miss: Why Yahoo's Bid for Tumblr is Genius.