Yahoo! Pops on Alibaba Nod from NYSE & NASDAQ and 2 Other Hot Stocks to Watch
Yahoo! Inc.  (NASDAQ:YHOO): Current price $34.01
Yahoo shares are up almost 2 percent Monday near the top of their 52-week range, on word that Alibaba Group has gained approval from both the New York Stock Exchange and the Nasdaq for the manner that it plans to file for an initial public offering, through which its founders and senior management would have the capacity to maintain control of its board makeup. Yahoo has a major ownership in Alibaba.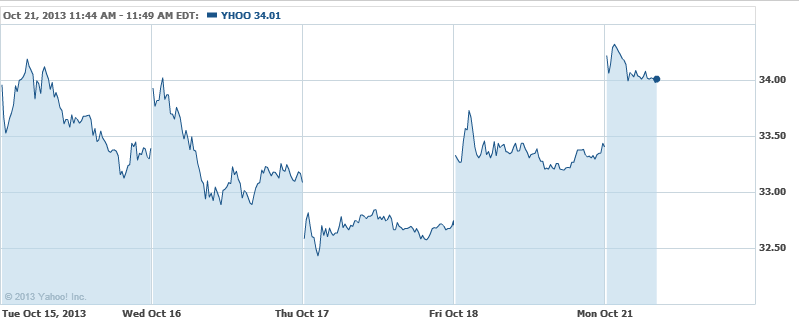 General Electric Co. (NYSE:GE): Current price $26.19
GE Capital's Transportation Finance division and Clean Energy Fuels Corp., the number one supplier of natural gas fuel for transportation in North America, will work jointly to speed up the conversion of heavy-duty trucking fleets from diesel to cleaner-burning, less-expensive natural gas. To exploit this opportunity, truck fleet operators will at first work with Clean Energy to develop natural gas fueling contracts and will then apply for loans and leases, including fair market value leases, from GE Capital to purchase trucks from manufacturers that make commercial natural gas vehicles.

Ford Motor Co. (NYSE:F): Current price $17.45
On Monday, Ford added Hong Kong to its list of world cities served by its Transit Connect Taxi, reflecting the vehicle's popularity among taxi operators in Chicago, New York City, Miami, and Los Angeles. The Transit Connect Taxi Ford debuted in Hong Kong is equipped with a Ford-engineered, clean-burning liquefied petroleum gas fuel system, created to run on Hong Kong's well-established LPG infrastructure, giving dependability, low maintenance and long-range travel.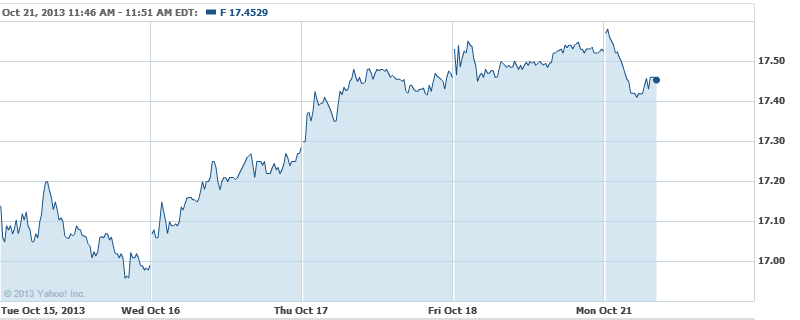 Don't Miss: German Regulators to Amazon: Reform or Else.