Yahoo! Releases New Free Apps and 2 Other Hot Stocks to Watch
Yahoo! (NASDAQ:YHOO): Current price $23.31
The company is now in the next phasein its endeavor to make a number of its most popular services more alluring and accessible to the growing audience which is linking to the Internet on smartphones and tablet computers. Chief ExecutiveMarissa Mayer's push towards mobile has generatedYahoo's first email application for Apple (NASDAQ:AAPL) iPad along with other tablet computers running on Google's (NASDAQ:GOOG) Android software. What is more,Yahoo also has created a new weather application for Apple's iPhone that will give forecasts on top of slideshows that feature photos of landmarks in the cities chosen by a user. These newfree apps are being released Thursday morning.

Exact Sciences Corporation (NASDAQ:EXAS): Current price $7.88
The corporation announced that its molecular screening test for colorectal cancer attained its goals in a large late-stage evaluation, detecting the disease in over 90 percent of patients, but its shares plummeted by 30 percent on Thursday because the results were not as robust as some were hoping.Exact's test identifies abnormal DNA in cells shed in a patient's stool, and detected 92 percent of colorectal cancers and 42 percent of pre-cancerous polyps in a large late-stage study, but some analysts were expecting at least a 55-percent rate in the latter.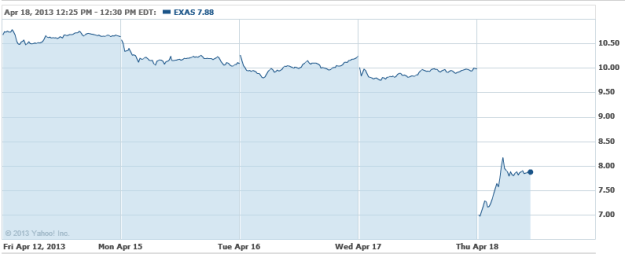 Facebook (NASDAQ:FB): Current price $25.62
The firm conducted the first ofthree developer eventson Thursday, pushing on to woo mobile coders so as to build applications on top of the Facebook platform.Other than continuing to boast high statistics on download rates for applications built atop the platform, the company has debuted aseries of new featuresand tools for its platform at the Manhattan event, attempting to make it as easy as possible for mobile developers to integrate their applications into the essence of Facebook.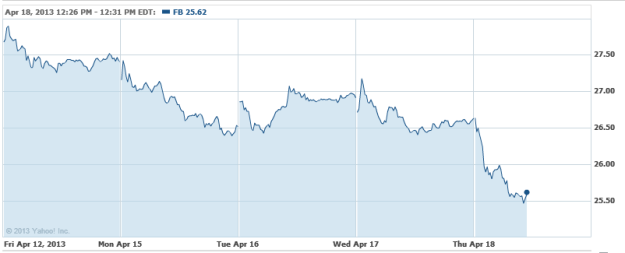 Investing Insights: Is EMC a Safe Investment in this Environment?