Yahoo! Reserves Cash for Acquisitions and 2 More Heavily Traded Stocks to Follow
Yahoo! (NASDAQ:YHOO): Current price $24.95
Yahoo Chief Financial Officer Ken Goldman was among company executives who said on Tuesday that they are reserving sufficient cash for big acquisitions, and he also reiterated the firm's strategy to enhance the user experience, thereby pushing ad sales. At Yahoo!'s annual shareholders meeting in Santa Clara, Goldman commented, "We're very thoughtful about how much cash we need to keep on the balance  sheet to do things like Tumblr," alluding to the firm's $1.1-billion purchase of the blogging company, which closed last week.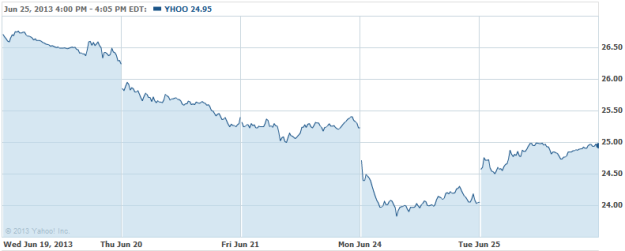 General Electric Company (NYSE:GE): Current price $23.11
GE's operating division GE Capital, Healthcare Financial Services, recently supplied a debt financing of $89 million to the full-service commercial real estate company MB Real Estate, through which to fund the purchase of a medical office building in Atlanta. MB Real Estate offers a diversified portfolio of asset and facilities management services, leasing, project and construction management, tenant representation and investment services to private and public organizations all over the United States.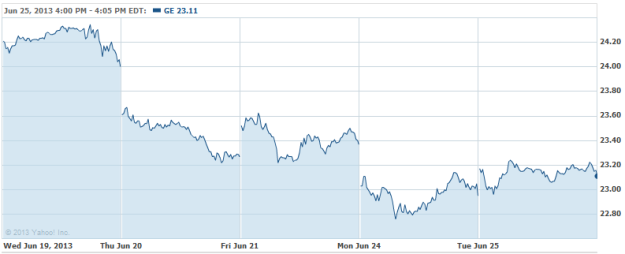 Sprint Nextel Corporation (NYSE:S): Current price $6.88
On Tuesday, Sprint shareholders okayed SoftBank's acquisition of 78 percent of the company for $21.6 billion, which formally concludes an epic takeover battle that placed SoftBank's Masayoshi Son and the DISH Network Chairman Charlie Ergen. The satellite TV broadcaster DISH elected to not raise its offer for Sprint last week, after tendering a surprise bid in April to acquire all of the giant carrier, at a price that threatened to surpass SoftBank's offer. Sprint said that roughly 98 percent of votes cast at Tuesday's special shareholder meeting approved the SoftBank deal, representing 80 percent of  Sprint's outstanding common stock.