Yahoo! Unveils Twitter Partnership and 2 More Heavily Traded Stocks To Follow
Yahoo! (NASDAQ:YHOO): Current price $26.58
In a Thursday blog post, Chief Executive Marissa Mayer announced a partnership with Twitter which would unite the two major Internet and social media sites. Mayer commented that "Tweets have become an important information source for many of our users, so we are thrilled to announce our partnership with Twitter to bring Tweets directly into the Yahoo newsfeed," adding that the integration will be made available to American desktop and mobile Web users in the next few days.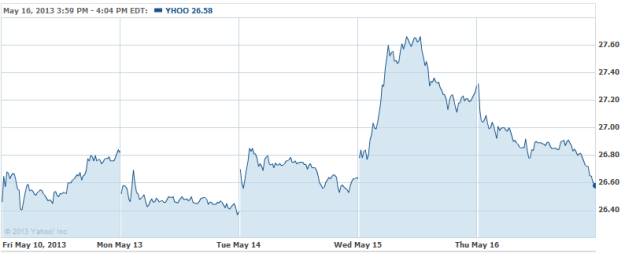 Dell (NASDAQ:DELL): Current price $13.43
If T. Rowe Price opposes Michael Dell's proposed takeover of Dell, it will not matter as much now. On Wednesday the mutual fund disclosed that it sold roughly 10.26 million Dell shares in the first quarter, or approximately 12.5 percent of its holdings. Beyond that, it bought 5.8 million call options during the same period. However, there is currently no available information as to the price T. Rowe received, or which call options it acquired. In the first quarter, Dell shares traded at between $10.31 and $14.51 per share, versus the proposed buyout price of $13.65 per share.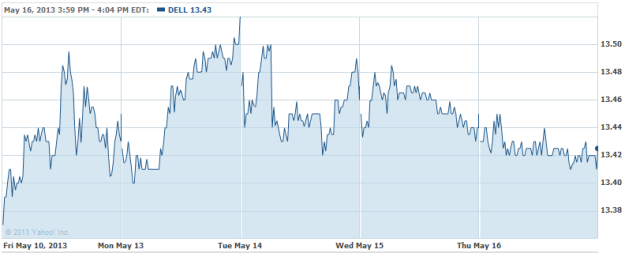 Groupon (NASDAQ:GRPN): Current price $6.94
While Groupon searches for a new chief executive, it is transferring its concentration from sending daily emails to becoming a mobile marketplace, Interim Co-Chief Executives Eric Lefkofsky and Ted Leonsis said on CNBC's Squawk on the Street, regarding the firm's vision for the future. Lefkofsky remarked to CNBC that Groupon was "misunderstood" during Andrew Mason's tenure, but he said that the founder did not create a discount in the stock price. Lefkofsky said Thursday that "We absolutely didn't manage the process of being public as well as we could have or should have. We're now just intensely focused on the day-to-day business. Hopefully we'll be less misunderstood over time."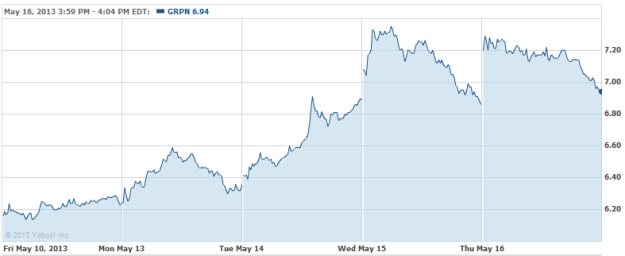 Don't Miss: These Popular Tech Names Are Ripping Higher.