Yahoo! Will Close Its Cairo Office and 2 More Heavily Traded Stocks to Follow
Yahoo! Inc. (NASDAQ:YHOO): Current price $33.03
In a Wednesday statement, Yahoo announced that it will close its office in Cairo at the end of 2013, laying off all its local employees. The shutdown is part of its "global efforts to streamline operations by bringing more (offices) together in fewer locations." Yahoo also said that its employees in the Cairo office will be offered separation packages that "exceed local law requirements" but would not say how many persons it presently employs in the city. The firm said it will serve its Middle East and Africa markets out of its offices in Dubai and Amman.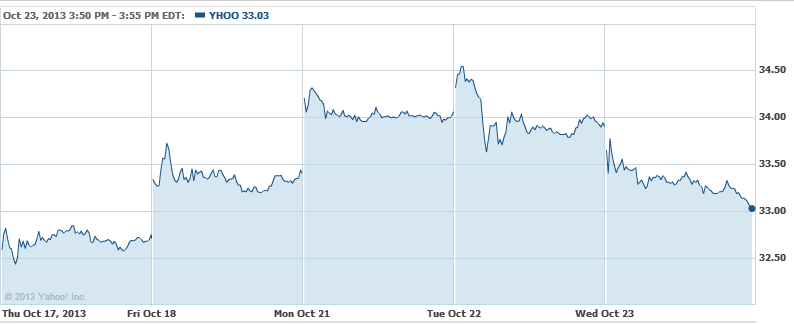 Juniper Networks Inc. (NYSE:JNPR): Current price $19.05
On Tuesday, Juniper announced layoffs after beating the Street in its third quarter. Chief Executive  Kevin Johnson said during the quarterly conference call with analysts that the firm eliminated 280 jobs in October, because its fourth quarter is likely to be weaker than Wall Street wanted. Juniper third-quarter earnings per share stood at 33 cents, compared to consensus at 31 cents with revenue of $1.19 billion when Wall Street expected $1.17 billion. However, the company projects that the fourth quarter revenue will come in between $1.2 billion and $1.23 billion, lower than the analysts forecast at $1.23 billion. Johnson did not indicate how much money he expects to save by eliminating 280 persons.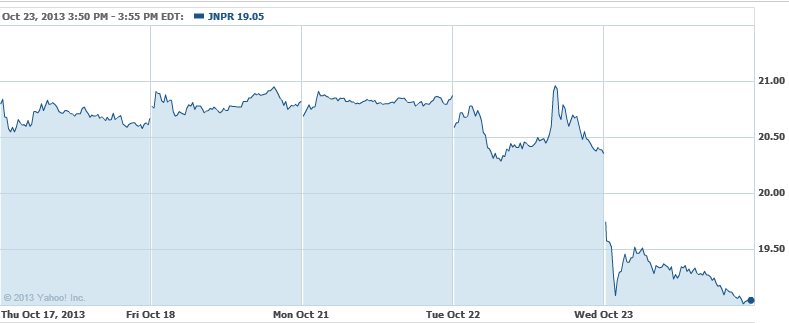 Caterpillar Inc. (NYSE:CAT): Current price $83.42
Caterpillar's gamble on a world commodity boom soured yet again on Wednesday, forcing the company to post a lower-than-anticipated profit. Besides that, the firm lowered its full-year forecast and offered a first look at 2014 sales, which suggested that weakness from mining customers would continued to beset sales in 2014. However, Caterpillar Chairman and Chief Executive Doug Oberhelman said that he remains confident that mining customers would begin ordering again, but admitted he did not have any idea when that might start.

Investing Insights: Does ARM Holdings Support Rising Prices?