Yahoo's Latest Victory, Dell Deal Is Finally Done: Market Recap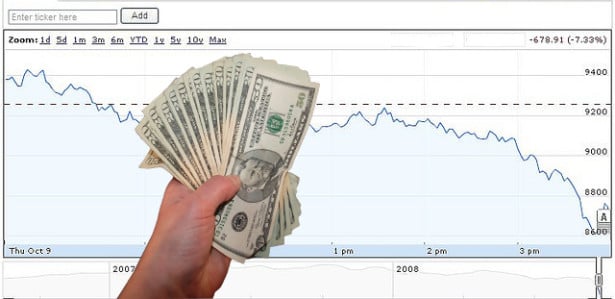 U.S. stocks fell during trading on Thursday due to investor concern over tensions in Syria and the potential end of quantitative easing. Today, Secretary of State John Kerry told opposition figures in Syria that U.S. military intervention in the country isn't yet off the table. The Federal Reserve will meet next week to discuss whether the U.S. economy is healthy enough for the central bank to start cutting back on bond purchases.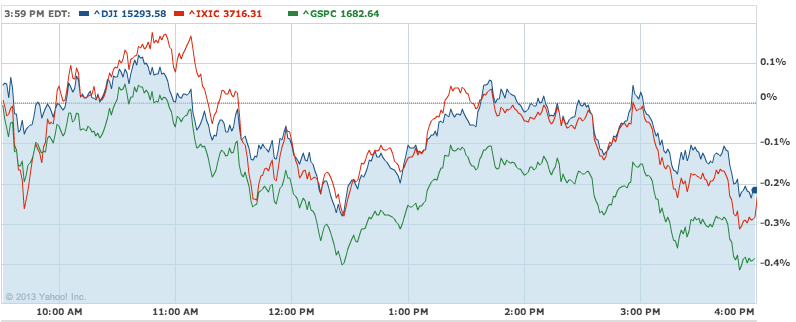 Gold: -2.95% to $1,323.50 per ounce Oil: -0.07% to $107.31 per barrel U.S. 10-Year: -0.45 to 2.91%
Computer Error Pushes Jobless Claims to Post-Recession Low: Initial claims for unemployment benefits dropped 31,000 for the week ended September 7 to a seasonally adjusted 292,000 — the lowest level reported since 2006 and a figure that indicates employers have ended the long cycle of elevated layoffs that characterized the 2007 to 2009 recession.
Is the Fed Fighting Deflation?: With U.S. monetary policy in the spotlight, many investors have their eyes glued to the same economic indicators that the U.S. Federal Reserve is watching: unemployment and inflation, both of which are meandering toward targets established earlier in the year. Unemployment is trending lower and inflation is trending higher, and according to Fed projections, the economy looks as if it is one to two years away from a reasonable definition of "healthy."
Should the Budget Deficit Be a Top Concern for Americans?: America's budget deficit increased from $97.6 billion in July to $147.9 billion in August, according to the U.S. Treasury Department, about 22 percent lower than August of last year. Total receipts increased 3.6 percent on the year to $185 billion, while total outlays declined 9.8 percent to $333 billion.
Here's your cheat sheet to today's top stock stories: 
Dell (NASDAQ:DELL) is going private. Michael Dell, who began the eponymous company from his college dorm room in 1984, has finally convinced shareholders that his privatization plan is the best option for the struggling personal computer maker.
Yahoo (NASDAQ:YHOO) CEO Marissa Mayer has reported a number of significant victories since her appointment to the position more than a year ago, among them Yahoo's stock rally, its $1 billion acquisition of Tumblr, and the site's appealing homepage and email redesign. At the TechCrunch Disrupt Conference, according to Reuters, she said that her Internet company now has more than 800 million monthly active users.
Disney's (NYSE:DIS) next installment in the Pirates of the Caribbean franchise might have a name, but it no longer has a release date, and some critics are blaming it all on The Lone Ranger's notorious box office flop this summer. According to The Hollywood Reporter, the film, Pirates of the Caribbean: Dead Men Tell No Tales, was originally scheduled for a 2015 summer release, but that date has since been pushed back.
AT&T (NYSE:T) has finally completed an acquisition of wireless spectrum from Verizon Wireless (NYSE:VZ) through a $1.9 billion deal, which was cleared back in January. The spectrum comes from Verizon's 700 MHz B block, which Verizon doesn't currently use, according to a report from CNET. AT&T said the new spectrum would allow the company to offer 4G coverage to an additional 42 million people across 18 states.
Netflix's (NASDAQ:NFLX) deal with Virgin Media in the U.K. may be good news for consumers, but it also forecasts a potentially dismal future for TV networks and distributors. Netflix TV and movie streaming has long been a concern for traditional media companies as they slowly lose more subscribers each year who opt to pay the streaming service's lower fees rather than the growing cost of cable television.
Johnson & Johnson (NYSE:JNJ) had another recall to announce Wednesday after it found that its Risperdal Consta, a long-acting drug purposed to treat schizophrenia, was no longer sterile. According to Bloomberg, 5,000 vials of the drug were recalled after the company found that one lot of Risperdal Consta was contaminated with alternaria alternata, a mold found in the environment.
Follow Jacqueline on Twitter @Jacqui_WSCS
Don't Miss: Yahoo! Here Are the Numbers Delighting Marissa Mayer.