Yahoo's Stock Repurchase, Cantor Likes Facebook Better Than Twitter: Market Recap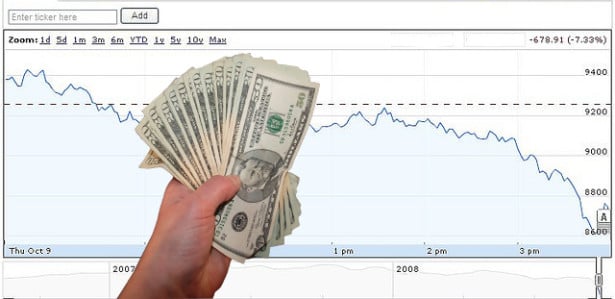 U.S. stocks dropped during trading on Wednesday as minutes from the Federal Reserve's October policy meeting indicate that the central bank may begin cutting stimulus soon. The Fed said that positive economic data, particularly in regards to the labor market, will "warrant trimming the pace of purchases in coming months." Up until yesterday, most had speculated that the Fed wouldn't begin tapering stimulus until March, but now it looks like bond purchases could be cut back much sooner.

Gold: -2.23% to $1,244.00 per ounce Oil: -0.16% to $93.74 per barrel U.S. 10-Year: +2.95 to 2.792%
Government Issues Didn't Shut Down Retail Sales in October: The U.S. Department of Commerce released its report on retail sales for October on Wednesday morning. The results revealed that consumers still opened their wallets during the month despite the partial government shutdown that lasted through the first half of October. Last month, retail sales rose at their fastest pace since July, driven in particular by the sales of cars and trucks.
Ben Bernanke and Why Forward Guidance Matters So Much: Historically, the U.S. Federal Reserve had one primary tool it reached for when it needed to edit the monetary environment. That tool was the raising or lowering of the federal funds rate, which is the interest rate at which banks — that is, depository institutions — can trade their federal funds, also known as reserves. This rate serves as a benchmark for other interest rates throughout the financial market. When it is lowered, interest rates in general tend to decrease; when it is raised, interest rates tend to increase.
The U.S. Economy and the Curious Case of Missing Demand: Speaking before the Joint Economic Committee in May, Federal Reserve Chair Ben Bernanke delivered a somewhat ominous diagnosis of the U.S. economy. Couched within boilerplate language detailing the "moderate pace" of economic growth, Bernanke said that — alongside the usual benefits of lower interest rates (which, in turn, support increased spending) — the Fed's exceptionally accommodative monetary policy "has also helped to offset incipient deflationary pressures and kept inflation from falling even further below the Committee's 2 percent longer-run objective."
Here's your cheat sheet to today's top stocks stories:
Google's (NASDAQ:GOOG) latest update to its Android mobile operating system is now available for the Nexus 5 smartphone, with availability for the rest of Android's devices coming soon. The newest Android update, called KitKat, is now live for the Nexus 5. Smartphones like the HTC One, Samsung's (SSNLF.PK) Galaxy 4, and the Motorola (NYSE:MSI) Moto X will receive access to the update in the coming weeks, according to CBS News, though no information was offered as to when exactly that would be.
Yahoo Inc. (NASDAQ:YHOO) has raised $1 billion from a convertible debt offering, but what Chief Executive Marissa Mayer intends to do with it is not known at this time. However, the series of acquisitions of late probably gives analysts some hint of things that might be to come. The firm says that the offering, due in 2018, will be used for "general corporate purposes, including, but not limited to, acquisitions or other strategic transactions, additional repurchases of common stock, and working capital." Besides that, Yahoo announced a $5 billion repurchase, rewarding shareholders, mostly due to the coming initial public offering of Alibaba, in which Yahoo owns a 24 percent interest.
Twitter Inc. (NYSE:TWTR) has been downgraded. Though he commends Twitter's future potential, Cantor analyst Youssef Squali has pulled his Buy rating on Twitter's stock, citing valuation concerns. "While we're impressed with Twitter's growth and future potential, we believe the current valuation already reflects much of this potential," Squali said, adding that the firm prefers Facebook's (NASDAQ:FB) numbers to the microblogging service.
Best Buy Co. (NYSE:BBY) shares are recovering from Tuesday's dip after a positive note from Citigroup came out. Best Buy fell during trading on Tuesday after giving fourth-quarter guidance that was hardly optimistic about the holiday shopping season. Citigroup notes that the drop provides a good buying opportunity based on increasing sales and greater prospects for stock buybacks in the future. Citi put a Buy rating on Best Buy shares.
J. M. Smucker Co. (NYSE:SJM) shares close down 6.5 percent after Smucker's quarterly report, which saw earnings per share of $1.52 miss by 8 cents and net sales of $1.56 billion miss by $0.05 billion, despite lower commodity costs. However, Smucker had to give some of it right back to consumers, as pricing in the food sector became more competitive during the third quarter. The company saw gains in Crisco oils, Folgers coffee, Jif peanut butter, and Smuckers fruit spreads, which helped offset declines in flour and canned milk volumes.
J.C. Penney Co. (NYSE:JCP): shares closed up almost 8.4 percent despite a quarterly report that shows J.C. Penney posting a wider loss than was expected due to a higher percentage of inventory being moved out at clearance rates. The retailer reported a 4.8 percent drop in comparable store sales, lower than the 4.2 percent loss that analysts forecast. However, the conference call told investors what they wanted to here, as J.C. Penney executives flat out promised that a turnaround of the retailer is underway.
Follow Jacqueline on Twitter @Jacqui_WSCS
Don't Miss: Cloud Service Competition: IBM Attacks Amazon.