You'll Never Guess What America's Favorite Breakfast Cereal Is
Breakfast cereals garnered $8.9 billion in sales as Americans purchased more than $3.1 billion boxes of cereal in 2017. How could this be? Millennials don't eat cereal — apparently — and every other consumer believes "morning foods" have gotten too pricey to warrant a purchase. Still, some cereal makers are managing to defy all odds in an otherwise soggy market.
IRI Worldwide, a Chicago-based research firm, analyzed data to define America's 10 most loved and best-selling breakfast cereals. A few of your favorite products on this list won't surprise you, but the No.1 placeholder definitely will. Here are America's top-10 favorite breakfast cereals.
10. Raisin Bran (Kellogg Company)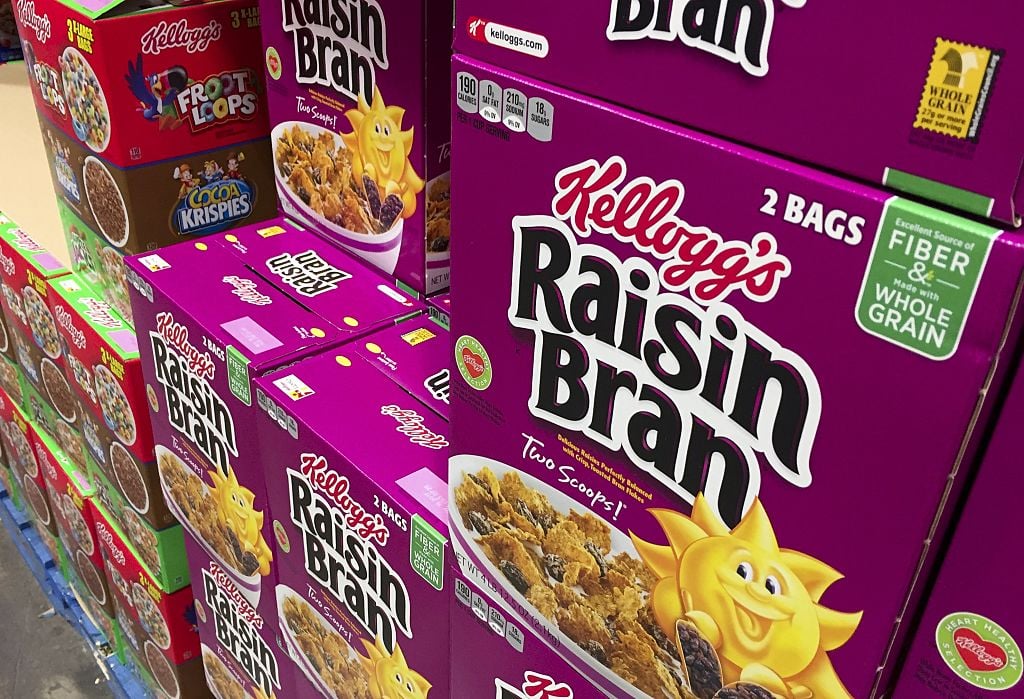 Retail sales: $1.84 million
The Kellogg Company dominates breakfast cereal with 30.01% market share, but Kellogg said that 2017 sales were down for some of its most iconic products. This is a widespread issue across the cereal industry — one that we'll delve into later.
Still, the company did about $2.59 billion in annual sales last year and its Raisin Bran cereal was one of its biggest sellers. Whether Raisin Bran sits at the back of your shelf until other sugary cereals are gone is a different story.
Next: Nine layers of goodness
9. Frosted Mini Wheats (Kellogg Company)
Retail sales: $2.46 million
Trying to eat all the minis before the sugary frosting melts into the milk is a game kids (and adults) can't resist. Maybe that's why Frosted Mini-Wheats is another top performer for Kellogg, bringing in $2.46 million in sales in 2017.
Next: As luck would have it…
8. Lucky Charms (General Mills)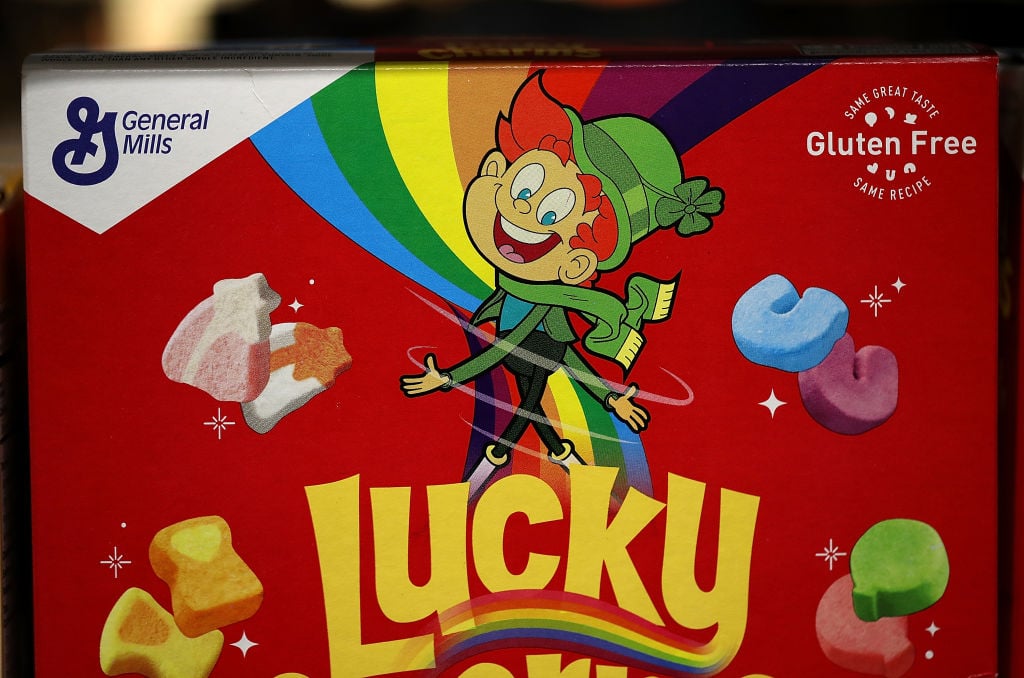 Retail sales: $2.63 million
There's not a child in America whose Saturday mornings weren't consumed with chomping down on a perfectly rationed bite of marshmallow bits and crunchy shamrocks. General Mills has been struggling to post profitable sales numbers for years now, but a recent boost suggests its push to offer more organic products in stores has helped. Nevertheless, nothing will take the place of the magical deliciousness of Lucky Charms, one of its many top-selling products on this list.
Next: A kid-friendly favorite
7. Fruit Loops (Kellogg Company)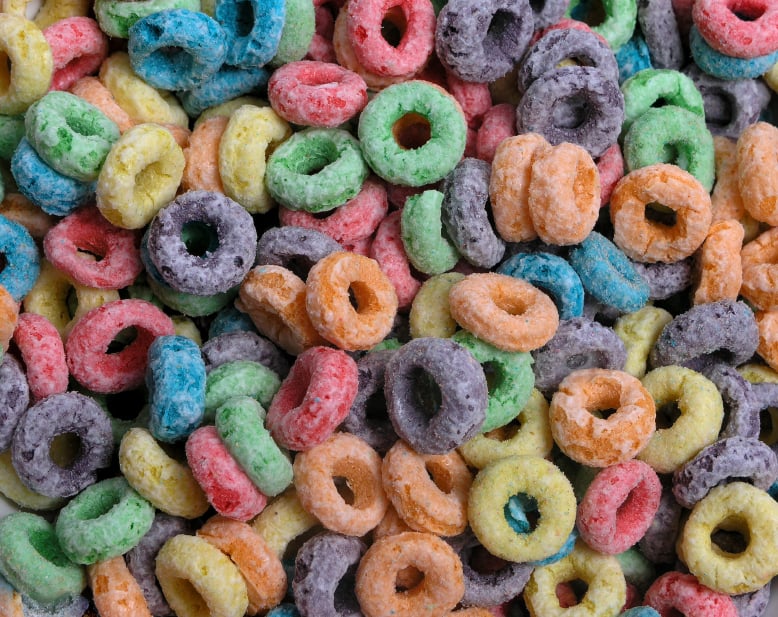 Retail sales: $2.67 million
Fruit Loops, another crowd-pleaser, takes the seventh spot in America's favorite breakfast cereal ranking. This is welcomed news for Paul T. Norman, senior vice-president and president of Kellogg North America. He told Food Business News that the company is relying on kid-oriented products like Fruit Loops to stay afloat as sales have declined 2.3% year-over-year.
Next: A tried-and-true cereal
6. Cheerios (General Mills)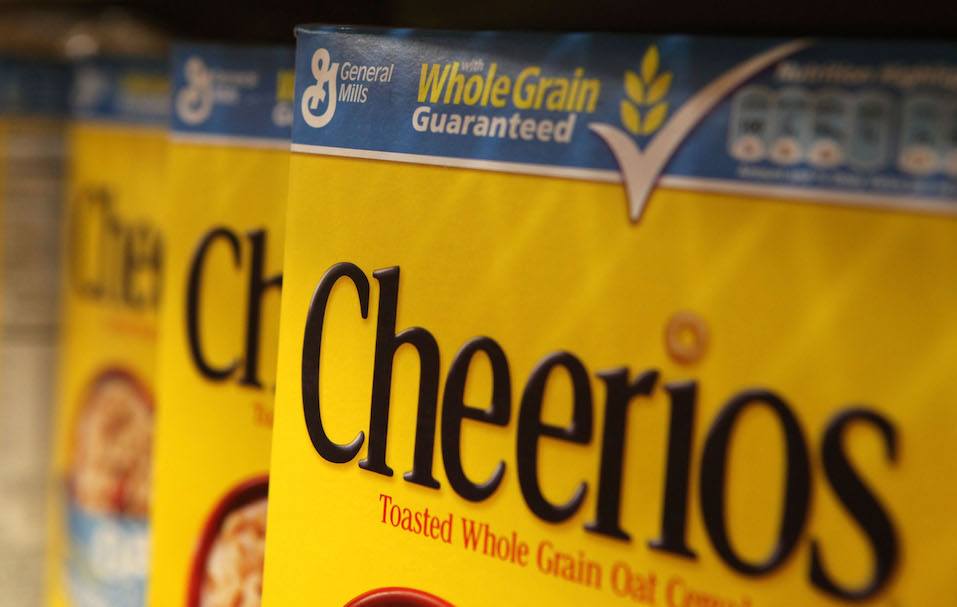 Retail sales: $3.31 million
When it comes to the sale of Cheerios, General Mills is happy to let millennials continue choosing avocado toast for breakfast instead. Toddlers and Generation X-ers have Cheerios in the bag. It's not General Mills' top-selling cereal, but it's pretty darn close. This product saw sales increase by 3.6% year-over-year.
Next: A smart move for General Mills
5. Cinnamon Toast Crunch (General Mills)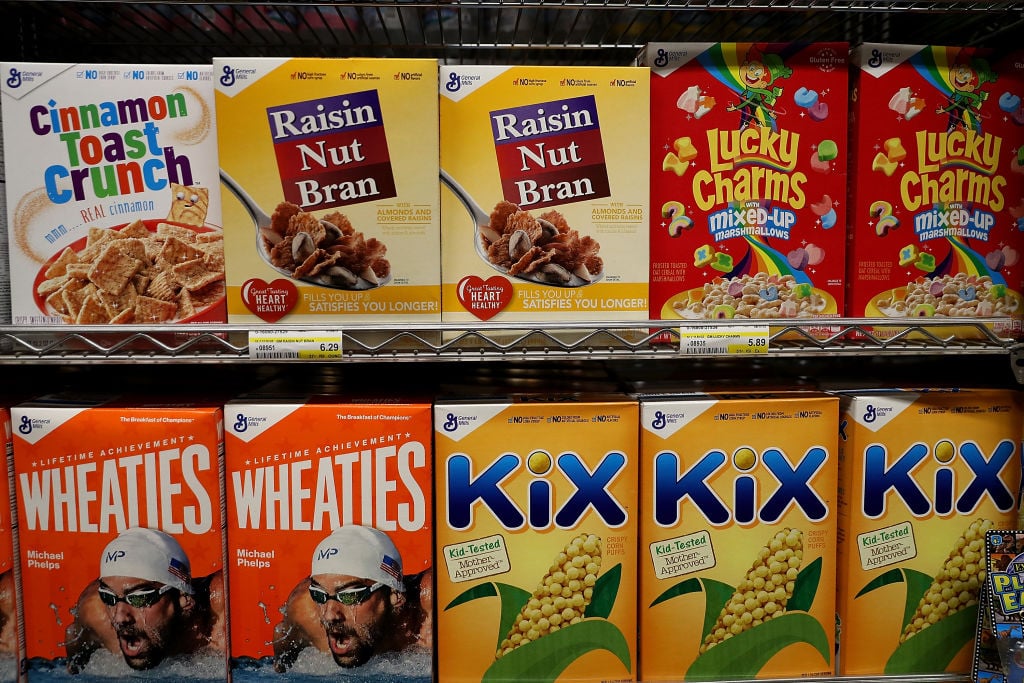 Retail sales: $3.70 million
First, we should acknowledge that Cinnamon Toast Crunch wins the award for most delicious leftover cereal milk in the bowl. Now we can discuss its top-five spot on America's most beloved breakfast cereals list.
These little toasts were one of the few products that actually posted positive sales year-over-year according to IRI Worldwide's data. General Mills debuted multiple successful versions of the cereal such as blueberry, apple, and strawberry-flavored crunch, but consumers bought nearly 111 million boxes of Cinnamon Toast Crunch last year.
Next: A healthier alternative
4. Honey Bunches of Oats (Post Holdings)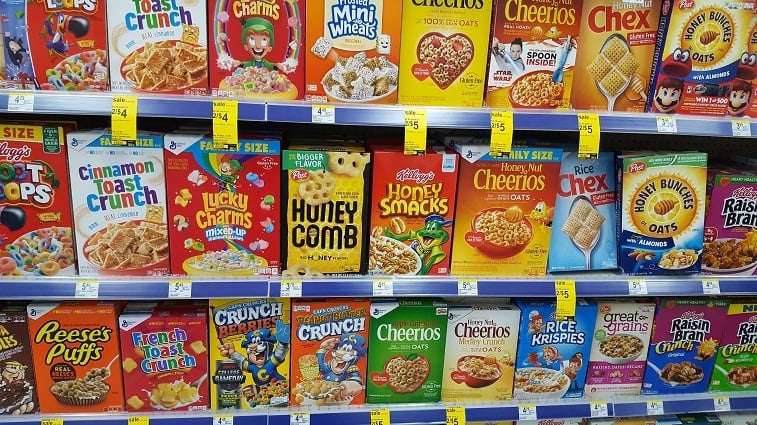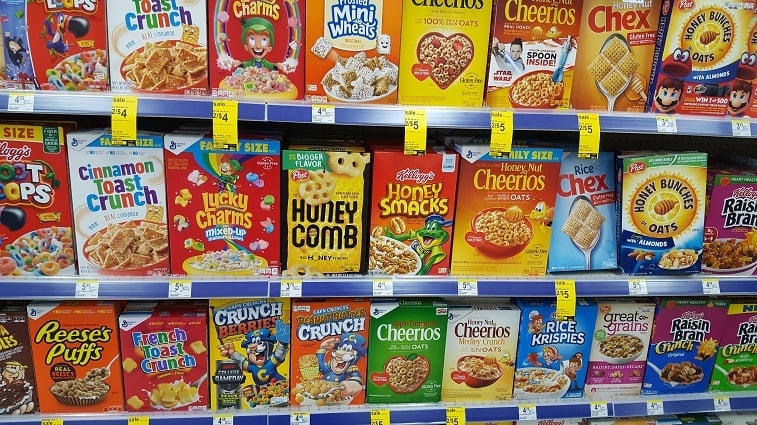 Retail sales: $3.98 million
Post Holdings has Honey Bunches of Oats to thank for its appearance on America's list of favorite breakfast cereals. Though Post only managed to earn a 0.14% increase in dollar sales year-over-year, many consider it a win.
Experts attribute Honey Bunches of Oats success to changing consumer behavior, as more people are opting for healthier cereal alternatives with less sugar.
Next: This cereal is grrrreat!
3. Frosted Flakes (Kellogg Company)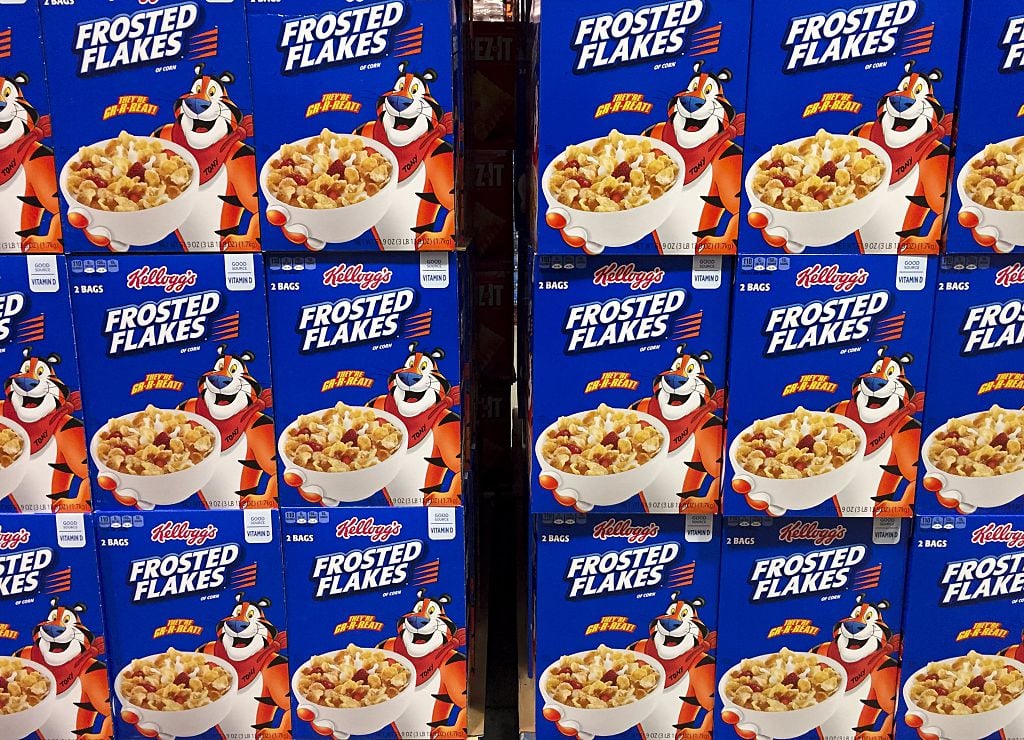 Retail sales: $4.13 million
Given the choice between your average run-of-the-mill corn flakes and the sweet, Tiger-approved frosted corn flakes, most would choose the latter. It's Kellogg's best-selling cereal by far.
Consumers bought $4.13 million worth of flakes last year alone. Like most of Kellogg's products, sales did decline significantly, but Frosted Flakes hold on this list is likely to remain, regardless of what the numbers say.
Next: A cereal on a mission
2. Honey Nut Cheerios (General Mills)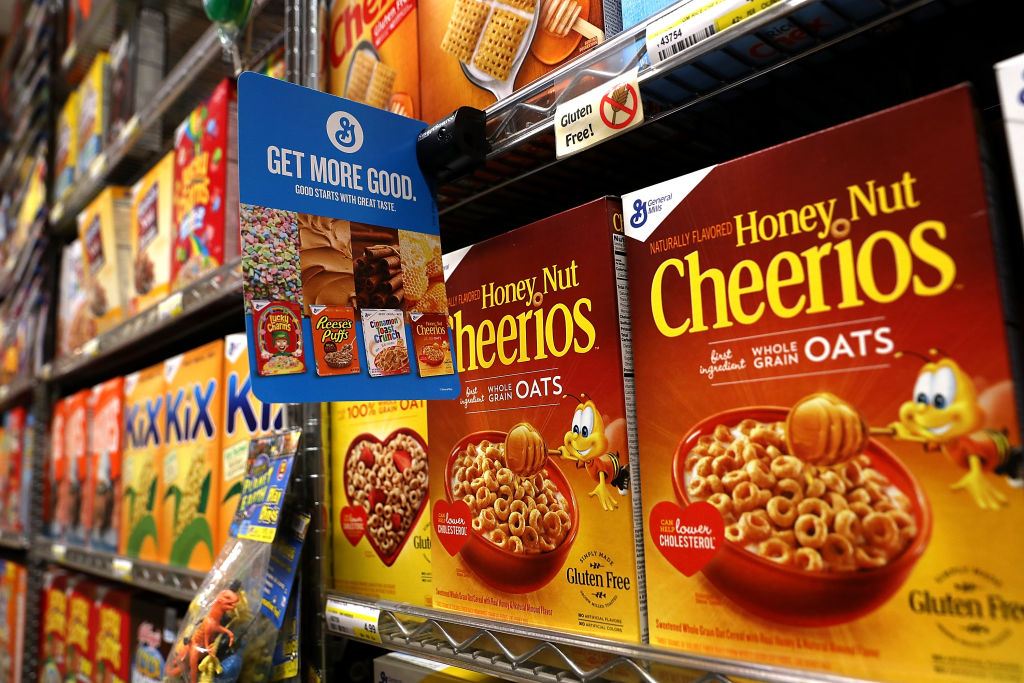 Retail sales: $5.03 million
General Mills' Honey Nut Cheerios just missed the top spot for America's best-selling product. The high sales numbers for this cereal prove consumers are starving for a nice mix of healthy nutrients paired with a bit of sweetness.
Shoppers may notice that BuzzBee, the brand's iconic spokesperson, is missing from their boxes. This is part of their campaign to "bring bees back" and encourage consumers to plant wildflowers that would help support the dying bee population.
Next: Can you guess America's best-selling cereal?
1. Private label or store brands
Retail sales: $6.46 million
The best-selling cereals are actually private label or store brands. Yup, once again Americans choose generic options over name-brand products for both price and taste.
In some locations, private label cereal can be more than a dollar cheaper than name-brand options. The nation's love affair with store-brand labels at Costco, Aldi, or Walmart outshines time-tested and iconic cereal brands to the tune of $6.46 million in annual sales.
Follow Lauren on Twitter @la_hamer.
Check out The Cheat Sheet on Facebook!