YRC Worldwide Earnings: Revenue Grows After Four-Straight Declines
YRC Worldwide, Inc. (NASDAQ:YRCW) reported its results for the first quarter. YRC Worldwide inc. is a holding company that through wholly owned operating subsidiaries offers its customers a range of transportation services.
Don't Miss: Wall St. Cheat Sheet's newest Feature Trades of the Month!
YRC Worldwide Earnings Cheat Sheet for the First Quarter
Results: Loss narrowed to $101.8 million (loss of $2.14/diluted share) from $274.1 million (loss of $13.25/share) in the same quarter a year earlier.
Revenue: Rose 5.6% to $1.12 billion YoY.
Actual vs. Wall St. Expectations: YRCW fell short of the mean analyst estimate of a loss of $1.53/share. Estimates ranged from a loss of $1.08 per share to a loss of $2 per share.
Quoting Management: "We are pleased with the year-over-year growth in business volumes and adjusted EBITDA improvements at YRC National and across our Regional companies," stated Bill Trubeck, Interim Executive Vice President, CFO and Treasurer of YRC Worldwide. "Our first quarter operating performance improved significantly once we moved past the severe winter weather in the first two months of the quarter. Excluding the insurance charge, we generated adjusted EBITDA in excess of $20 million for the month of March."
Key Stats:
From the fourth quarter of the last fiscal year, the company's current liabilities rose to $1.63 billion from $1.02 billion.
A year-over-year revenue increase last quarter snaps a streak of four consecutive quarters of revenue declines. The worst quarter in that span was the first quarter of the last fiscal year, which saw a 29.2% decrease.
Competitors to Watch: Arkansas Best Corporation (NASDAQ:ABFS), Con-way Inc. (NYSE:CNW), Saia Inc. (NASDAQ:SAIA), Roadrunner Transportation Services Hold. (NYSE:RRTS), Velocity Express Corp. (VEXPQ), J.B. Hunt Transport Services, Inc. (NASDAQ:JBHT), Old Dominion Freight Line (NASDAQ:ODFL), Celadon Group, Inc. (NYSE:CGI), AutoInfo, Inc. (AUTO), and Universal Truckload Services, Inc. (NASDAQ:UACL)
Stock Performance: Shares of YRCW are up 5.9% from the previous close of $1.35.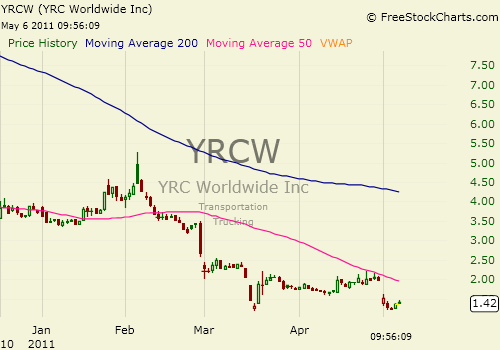 Don't Miss Wall St. Cheat Sheet's newest Feature Trades of the Month!