Yuan Overtakes Euro in Trade Finance Usage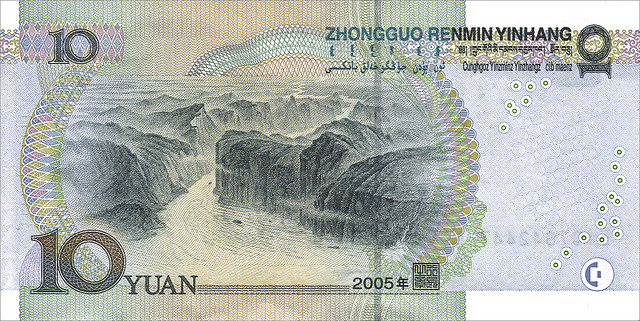 The yuan has overtaken the euro for the distinction of being the second-most heavily used currency for financial transactions, Reuters reports. According to SWIFT — the Society for Worldwide Interbank Financial Telecommunication — the yuan surpassed the euro sometime this October for interactions involving trade finance, giving it the coveted second-place spot behind the dollar. The yuan's share totaled 8.66 percent in October of this year, still ranking far behind the dollar, which controls over 80 percent of interactions.
Despite remaining in a very distant second, Chinese officials will not have reason to be disappointed by the news. As part of a push toward reform, the legitimization of the yuan as a currency for financial transactions has been pushed by the government. This shows that the currency has value apart from its being pegged to other denominations, as well as increasing the intrinsic value of the existence of the currency. In addition, it gives the Chinese government an added degree of control over a greater share of transactions.
The 8.66 percent figure may seem small, but it is in fact no trifling sum. At the beginning of 2012, under 2 percent of transactions in trade finance were carried out using the yuan, nearly a quarter of today's amount. This means that more and more transactions have been switching to the yuan in recent years.
This is especially important because it shows a confidence level in China's currency that has not been bestowed upon the currencies of many other emerging markets. As the American Federal Reserve begins to prepare for the end of quantitative easing, many emerging countries have seen their currency values decline or even drop dramatically, with China being one of the few exceptions. This vote of confidence in the yuan showcases that the currency is here to stay with or without the help of the U.S. government. The levels of the yuan, compared to the dollar, are up significantly on the year.
Meanwhile, the location of the transactions is beneficial to the Chinese as well. The top five countries using the yuan for trade finance interactions were China, Hong Kong, Singapore, Germany, and the U.S. Looking at the second and third entries on the list, one can see that the yuan is gaining traction in the region of east Asia, exactly where the Chinese are looking to build influence. As the yuan becomes a more and more legitimate currency, the number of transactions carried out in yuan is only expected to rise.
Don't Miss: Are Americans Vacation Deprived?